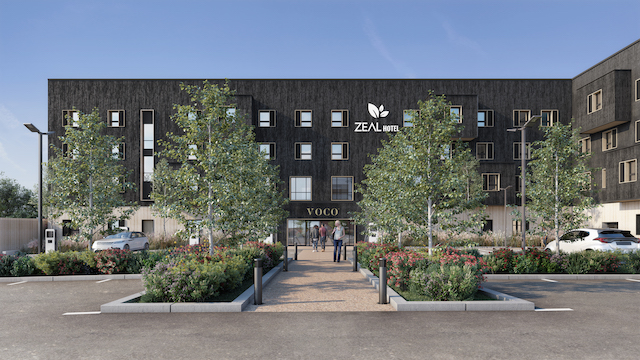 UK: The net zero carbon hotel in Exeter, which was built in partnership with Zeal Hotels and IHG, has been named voco Zeal Exeter Science Park.
The announcement of the name comes after Zeal Hotels signed an exclusivity agreement with IHG in May.
Signed under a franchise agreement and managed by Valor Hospitality, the 142-key hotel will be situated in the city of Exeter.
Scheduled to open in 2024, voco Zeal Exeter Science Park has been designed to align with the Net Zero Carbon Buildings Framework Definition of the UK Green Building Council – the membership-led industry network.
Karin Sheppard, SVP managing director, Europe, IHG Hotels & Resorts, said: "I'm delighted that voco Zeal Exeter Science Park will be IHG's first lifecycle net zero carbon hotel. This outstanding property in a beautiful part of southwest England perfectly illustrates the commitment of IHG and Zeal to doing business responsibly and will provide our guests with a place to stay that matches their own expectations around sustainability."
The net zero carbon hotel is being built using passive-house principles to minimise the energy needed to run it. 
It will have an air source heat pump providing heating and cooling for the ground floor, with adiabatic cooling and electricity providing the heating for higher floors.

There will be on-site photovoltaics – on both the roof and the south, east and west facades (a first in the UK) – which will provide the majority of energy needed, with the rest coming from renewable energy sources.

Embodied carbon from the hotel structure will be offset upon the opening of the hotel.
Sheppard added: "This agreement with Zeal follows a flurry of recent signings for IHG in the UK, and I'm excited to see the progress we're continuing to make with our Journey to Tomorrow 10-year responsible business plan. It also marks another milestone for conversion-friendly brand voco, which is our quickest-growing brand globally and proving a popular choice for owners around the world."
Tim Wheeldon, managing director, Zeal Hotels, said: "We are proud to be partnering with IHG on this very important project for both our businesses and the world around us. We have a vision for Zeal Hotels and we're looking forward to turning this into reality with IHG and the voco Zeal Exeter Science Park when we open our doors to guests in 2024."
In June Wheeldon commented that Zeal was ripe for expansion, noting that "a fundamental requirement in the design of our new hotel is that it can be replicated and we are now seeking additional development opportunities in strategic locations throughout the UK."
IHG's Journey to Tomorrow 10-year responsible business plan is aligned to the 17 Sustainable Development Goals of the United Nations. The company has a science-based target in line with a 1.5C future and all of its new-build hotels will operate at very low carbon emissions by 2030.  
There are 46 voco hotels across 18 countries with a further 59 in the pipeline. 
We spoke to Lee Pickersgill energy manager at Valor Hospitality which will be managing the voco Zeal Exeter Science Park hotel.
Image supplied by IHG.