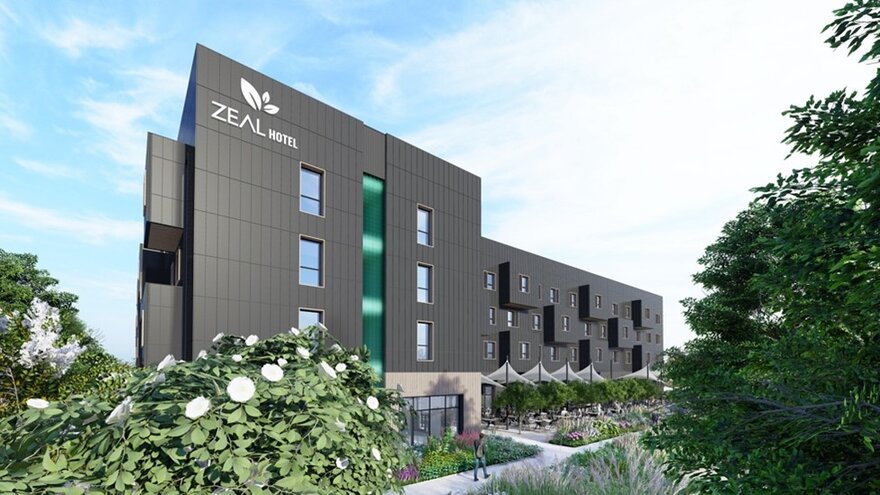 UK: The ground has been broken at Exeter Science Park for the new net zero hotel by Zeal Hotels.
Last month, we reported that Zeal Hotels had signed an Exclusivity Agreement with IHG Hotels and Resorts for the new hotel, which will be managed by Valor Hospitality.
Valor manages around 40 hotels across the UK and has more than 100 worldwide. Brian McCarthy, managing director of Valor Hospitality said: "Adding Zeal's first net zero carbon hotel to our portfolio shows how far we have come as a team… This great project takes us into the next step in our growth journey and we're excited for what's to come.''
Dr Sally Basker, chief executive, Exeter Science Park Limited, said: "It's very exciting to see work begin on Zeal's innovative, 'mindfully modern' highly-sustainable, low-carbon hotel that will complement Exeter Science Park's existing net zero carbon buildings. This collaboration launches the next phase of growth at Exeter Science Park and we anticipate there will be great synergy for both organisations, with Zeal bringing many benefits to our businesses, which will be reciprocated through the Science Park providing facilities, such as meeting spaces, for Zeal Hotel residents."
The 142-room hotel, which is due to open in 2024 will have solar panels to generate any heat energy, source food and beverages locally, offer EV car charging points, and is aiming for BREEAM rating of Excellent at first but Outstanding as a target. Zeal Hotels will be opening more sustainable hotels across the UK in the future.
The idea that the hotel sustainability model can be repeated is backed up on Zeal's website which says it has "adopted various different elements in the design, which is enabling us to achieve the Embodied Carbon target for 2030 & the CRREM EUI Pathway target for 2044. The 4 key variables of Embodied Carbon, Energy Use Intensity, Price & Quality are all interdependent. With the New Zeal Hotel being repeatable, we continue to improve the design and reduce the amount of CO2 utilised during construction."
Tim Wheeldon, managing director, Zeal Hotels, said: "The final pieces of our plan to create the first net zero carbon branded hotel are coming together and we are thrilled to be starting work on this innovative and highly sustainable project. Hospitality has been lagging behind other industries in its commitment to net zero carbon and we are looking forward to welcoming guests to join us on our journey. A fundamental requirement in the design of our new hotel is that it can be replicated and we are now seeking additional development opportunities in strategic locations throughout the UK."
Image credit: NewDog PR