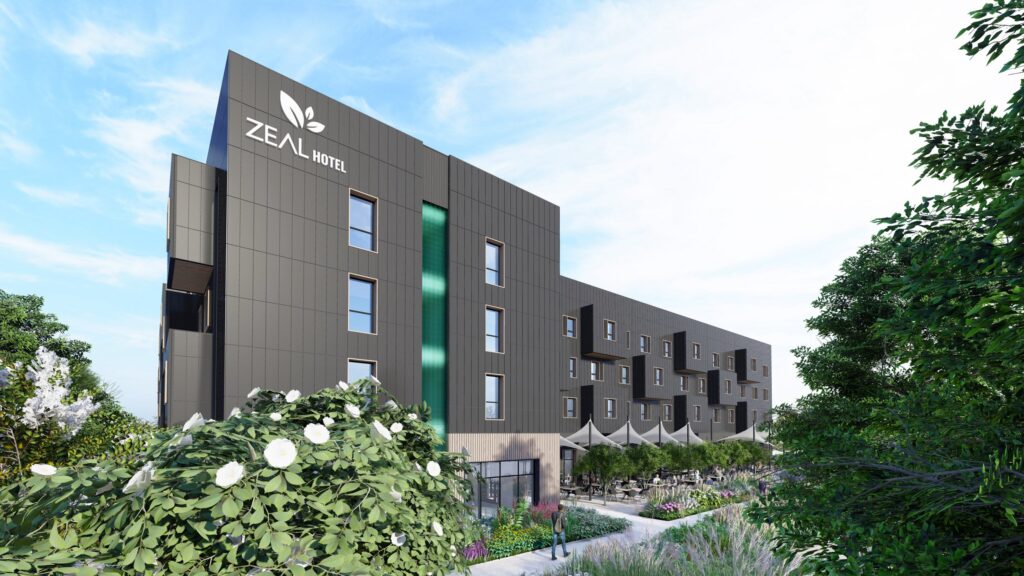 Valor Hospitality works with hotels and advises them on branding, development and refurbishments, as well as hotel design, alongside sustainability and ESG. Sustainable Hotel News asked Lee Pickersgill, energy manager, Valor Hospitality, about what's going on across the sector and how it is to manage the first of Zeal Hotels' net zero carbon properties.
What have you noticed over the last year when talking to hotels about sustainability? 
LP: All the hotels in our group are keen to investigate initiatives, new technologies and best practices to support a reduction in their water and energy consumptions. More importantly, they are all focused on sharing ideas and initiatives that have worked for them on their journey, which helps to foster a culture of sustainability. 
Have more hotels asked for sustainability advice and practical solutions for ESG policy recently?
LP: There is a constant communication flow between myself and the hotels, in reference to support, advice and guidance relating to environmental and sustainable solutions or initiatives to trial. Testing new technologies, renewing set points and timers on existing technologies, as well as potential best practices, is really important. Understanding the positive or negative effects over a set period is a vital step, before rolling out to the whole portfolio, as time, money and potential energy could be wasted.  
Do you help hotels (buildings) through BREEAM and LEED certifications? 
LP: Major refurbishment projects within our hotels are aimed towards a comprehensive environmental BREEAM rating. The LEED certification, while recognised more in the US, is a consideration for our hotels moving forward in the UK. We're always looking at ways to improve both our existing and new hotels from a sustainability perspective. 
What is the biggest trend you are seeing for sustainable hotels? 
LP: We're seeing many trends, some which have a big impact, and some which are more incremental, such as changes to LED lighting, offering guests the option to re-use linens, introducing water reduction technologies, and implementing recycling programmes. All of these initiatives can make a huge difference to a hotel's environmental impact and we're seeing more and more that guests are keen to support in order to help reduce their own footprint. 
What sort of clean technology is going into hotels now? 
LP: We're continuing to see technological advances, which can support the industry in its sustainability efforts. Energy Management Systems (EMS) and Building Management Systems (BMS) are popular to help hotels to save energy by control. This includes guest rooms, function and meeting rooms, and all other public areas. More solar solutions are being looked at too, including solar windows, cladding, roof space and carports. 
Should all hotels have SMART room technology, which knows when a room is occupied? 
LP: That would be a dream! This would allow the Guest Room Management System (GRMS) to control cooling, heating and lighting during a 24-hour period, to ensure energy is only used when required, which would make a huge difference. 
Why are some hotels / groups behind the curve when it comes to sustainability and ESG programmes?
LP: There are a few reasons why a hotel or hotel group could be slower on the uptake in relation to sustainability and ESG, some of which could be out of their control. Awareness, policies, resources, and high costs are obvious barriers, but also the fact that the customer has ownership of their room and may not be energy conscious. They may overuse the water and energy whilst in the rooms due to lack of awareness, for example. By making small changes and helping to educate the customer, taking them on the journey, hotels can make a big difference. 
What is a stand out sustainable design or brand redesign you can tell us about? 
LP: Any hotel implementing solar energy is on the right path! Also, 100 per cent LED conversion and zero waste policies are easy wins.  
How are developers keeping sustainable operations in mind?  
LP: Certifications such as BREEAM, LEED, ESOS, EnCO and ISO 50001 guidance will steer developers onto the sustainable path. Sustainability regulations and policies will also help support and advise developers on future projects. 
Will you see more hotel groups rebranding as carbon neutral? 
LP: I am confident that the industry's journey towards Net Zero will see many hotels rebranding to carbon neutral as part necessity, part policy and regulation enforcement. At Valor Hospitality, for example, we are proud to be managing the first net zero carbon hotel, [first net zero carbon hotel for Zeal Hotels] which is due to open in Q4 2024 in Exeter, UK. Zeal Hotels has recently signed an agreement with IHG Hotels and Resorts for the development of the hotel, which aims for a minimum BREEAM rating of Excellent through the inclusion of solar panels, EV charging points and locally sourced food and beverage. 
Valor Hospitality will manage Zeal Hotels' first net zero carbon hotel in Exeter, which opens next year. You can read more about that here.
Read more about Valor Hospitality here.
Image: Rendering of the Zeal Hotel in Exeter which Valor Hospitality will manage.