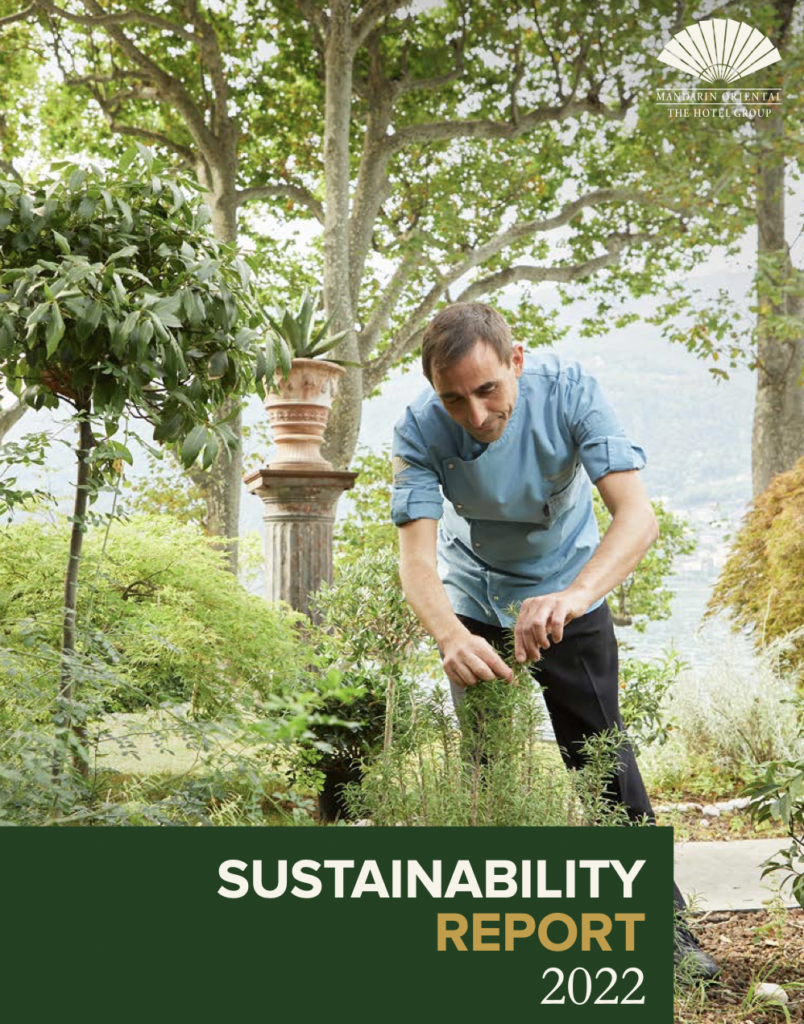 WORLDWIDE: Mandarin Oriental, the luxury hospitality group, has released its latest sustainability report and says it will be trialling food waste technology Winnow across its regions.
Previously, the Group set common goals for all properties, but recognising that every property is unique has now set property-specific targets.  
The Group, which operates 36 hotels and nine residences in 24 countries and territories, has been reporting on its sustainability efforts for 12 years and this edition details its achievements and strategic initiatives over the last year. 
Highlights include: significant carbon emission reductions, elimination of 99 per cent of single-use plastic, and the Group is on track to achieve official GSTC-recognition this year. It is also encouraging its individual hotels to also obtain GSTC certifications. 
To help tackle food waste, the Group is  running a trial of Winnow, the award-winning AI-powered food waste system, across four properties with a potential roll-out across all properties in 2024.
By identifying more than 600 food items, Winnow overtakes human levels of accuracy in identifying waste. Mandarin Oriental has also removed the breakfast buffet, offering a la carte only to reduce food waste.
The Sustainable Hospitality Alliance recently partnered with World Resources Institute (WRI) to deal with food waste in hospitality and easyJet Holidays also started trialling Winnow – read more here.
James Riley, Mandarin Oriental Group CEO says in the report: "Luxury does not have to be wasteful, and we can choose to support ethical supply chains with integrity. Mandarin Oriental is a relatively small player on the world stage, but from the strength of our brand, we use our voice to advocate for change along the value chain. This enables us to influence other key players in the market and the industry and bring our stakeholders and partners along with us on our sustainability journey."
Mandarin Oriental is an advisory council member of the Cornell Hotel Sustainability Benchmarking Index, an industry-led initiative to develop global benchmarking data on energy, water, waste and carbon emissions. 
To strengthen its sustainability governance structure, Mandarin Oriental established a dedicated sustainability department, which oversees the brand's sustainability initiatives and the communication and collaboration on the initiatives throughout the organisation. It uses the Greenview Portal to report and share data on its emissions.
Torsten van Dullemen, group director of sustainability and area vice president operations said: "…We are proud of the steady progress we have made in measuring our sustainability impact, both positive and negative, which provides necessary transparency to all our stakeholders, ultimately driving our accountability as an organisation and highlighting opportunities for ongoing improvement."
Mandarin Oriental says it is on track to meet its environmental group targets for 2030. 
Although there has been an overall rise in emissions the latest report Mandarin Oriental explains this is down to hotel expansion (the group has doubled its footprint since 2012) overall the group has seen a reduction in intensity 

The report says the Group has seen reductions in carbon intensity, energy intensity, and water intensity against 2012 baselines 

The report details a 30 per cent carbon intensity reduction, 31 per cent energy intensity reduction, and 16 per cent water intensity reduction from baseline
The Group is aiming to reduce carbon intensity by 50 per cent by 2030 and reduce energy intensity by 30 per cent by 2030.
It is also aiming for 15 per cent renewable energy use by 2030 (currently 8 per cent), and a 40 per cent water intensity reduction by 2030. A water risk assessment is conducted every two to three years, with the next due in 2025
Organic waste contributes up to 10 per cent of GHG emissions, according to the UNEP Food Waste Index 2021 and Mandarin Oriental is on track to reduce waste intensity by 50 per cent by 2030
Use of renewables doubled year-on-year, reaching 8 per cent of total energy use in 2022. Mandarin Oriental is working towards its 15 per cent goal by 2030. It adds "Fewer properties than many might appreciate are suited to solar panel installations, so we encourage properties to select sources that suit their needs."
The group continues to measure and report on its GHG activities. Scope 1 emissions were reduced from 16 per cent in 2012 to 12 per cent in 2022
Scope 2 emissions increased slightly from 84 per cent to 88 per cent over the same period, which may be attributed to a mixture of using more electricity rather than gas or diesel in kitchens as well as for heating, and some hotels using heating from city sources
Mandarin Oriental acknowledges in the report that it needs to work on its Scope 3 emissions and reporting is still in progress
According to the report: "Mandarin Oriental actively collaborates with industry peers to contribute to the development of a comprehensive framework – a joint initiative between Greenview, Sustainable Hospitality Alliance, the World Travel & Tourism Council and others."
To read the full sustainability report click here.