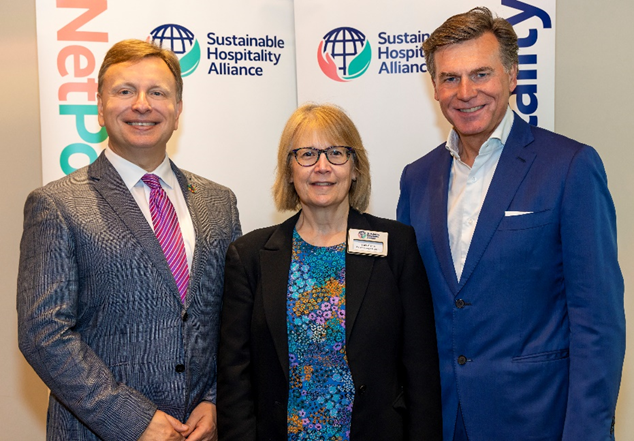 WORLDWIDE: The Sustainable Hospitality Alliance has partnered with World Resources Institute (WRI) to tackle the issue of food waste across the globe. 
The Alliance and the WRI will commit to helping the hospitality industry reduce its food-related emissions by 25 per cent by 2030.
Part of the commitment includes encouraging a change to low carbon foods, such as plant-based foods, so the sector can meet sustainability targets. 
The Alliance will urge its members, (representing over 50,000 properties and seven million rooms globally), to commit to the Coolfood Pledge, as part of the partnership. This WRI initiative is a science-based target to reduce food-related emissions by 25 per cent by 2030. 
Those committed to the Coolfood Pledge will get bespoke data analysis in an annual report to help track progress in reducing GHG emissions. The aim is to provide an understanding to the industry as to what works with consumers and to shift more diners toward plant-based foods. World-class research and resources will also be available to members of the Alliance who are on the journey towards Net Positive Hospitality. 
WRI will also peer review the Alliance's Hotel Carbon Measurement Initiative (HCMI) and help formally verify that the tool aligns with the GHG protocol. The Alliance's HCMI has recently been updated as we reported in October. 
Sustainable Hospitality Alliance CEO, Glenn Mandziuk, said: "We are delighted to be partnering with the  World Resources Institute (WRI) to move the hospitality industry towards food sustainability.  Combining the Alliance's resources and knowledge with the WRI's expertise and platforms, this partnership can help accelerate our members towards reducing food waste and food-related emissions. We look forward to our Hotel Carbon Measurement Initiative (HCMI) being peer reviewed by the WRI, which will serve as an important step to ensuring a transparent and globally comparable approach to carbon, water and waste reporting." 
Research has shown that hotels have saved US$7 for every US$1 invested in fighting food waste. Jenny Arthur, head of membership development for Coolfood at WRI said: "This partnership sets the hospitality industry up to significantly reduce the climate footprint of the food it serves. Through Coolfood, companies will have access to cutting edge behavioural science on how to sell low carbon food, as well as rigorous data and support to help them reduce emissions. We're excited to welcome them to the movement for delicious climate action."
In other food-related news, Easyjet holidays recently ran a trial in Tenerife using AI to help hotels cut the amount of food left over from its all-inclusive buffets. The tour operator partnered with Winnow, which uses artificial intelligence tools to collect data and help run more sustainable kitchens. The pilot programme, which launched in April in Spain, is monitoring the reduction of food waste in one of easyJet holidays' most popular hotels, the Bahia Principe Sunlight Costa Adeje resort.
Using the same kind of technology you'd find in a driverless car, Winnow's AI technology learns to 'see' the food being wasted and the data is collected and stored in the cloud. Teams then receive reports that pinpoint waste, giving them the insight to make operational improvements. Typically, kitchens using Winnow have seen food waste halved within 12-18 months which in turn has cut food purchasing costs by 2-8 per cent.
The pilot came about after Easyjet holidays partnered with Oxford University to create the easyJet holidays Sustainable Tourism Programme. The programme was launched to equip students with the transferable skills needed to lead change in relation to the UN Sustainable Development Goals. Research and reports from the students found that food waste is a sustainability challenge, with 18 per cent of food waste in Tenerife generated by the hospitality sector alone. Last August easyJet launched a sustainable hotels page on its website.
In Numbers
Food and Sustainability (Data provided by The Sustainable Hospitality Alliance). 
The production of food including agriculture and related land-use change (e.g., deforestation) accounts for nearly a quarter of global greenhouse gas (GHG) emissions. Shifting diets is essential to hit the global climate targets.
As the world population approaches 10 billion by 2050, emissions from agriculture and land could grow to take up the majority of the "carbon budget" for limiting global warming to acceptable levels.
Beef requires 20 times more land and emits 20 times more GHG emissions per gram of edible protein than common plant proteins, such as beans. Helping more people shift toward more plant-based diets can have tremendous climate and other environmental benefits.
More than one billion tonnes, or one third of all food produced, is lost or wasted each year.
Approximately 17 per cent of food is wasted at the retail and consumer levels.
Current levels of food loss and waste are responsible for wasting a quarter of all the fresh water used in agriculture, wasting nearly a quarter of all the fertiliser that is used, using an amount of land greater than the area of China, which could have otherwise been used for food that was consumed, driving 8-10 per cent of global greenhouse gas emissions, costing the global economy more than US$1 trillion every year.
Image: The Sustainable Hotel Alliance: Glenn Mandziuk, CEO, Sustainable Hospitality Alliance, Jenny Arthur, head of Cool Food membership development, WRI and Wolfgang M Neumann, chair, Sustainable Hospitality Alliance