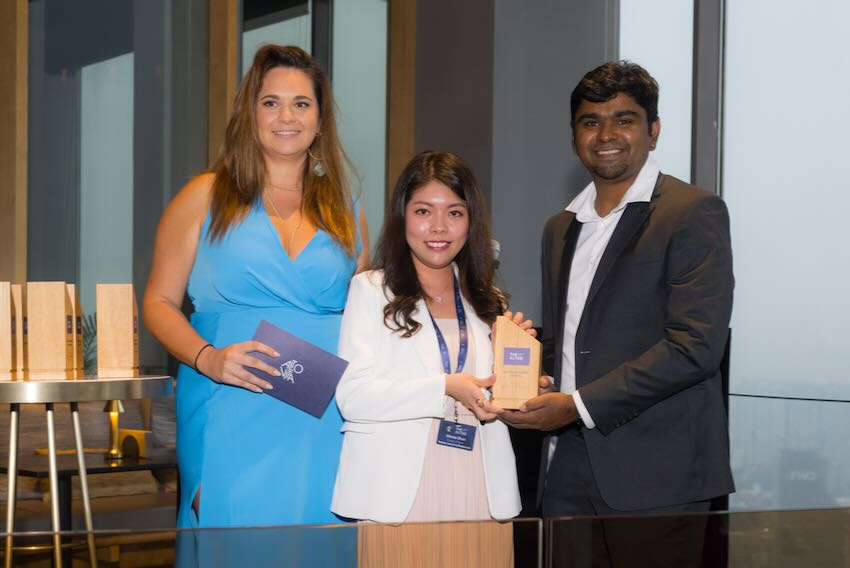 SINGAPORE: Treetops Executive Residences has won the Best Sustainability Initiative at AltoVita's the Altos awards in Singapore.
The Altos are AltoVita's annual awards and Treetops Executive Residences won for "its pioneering efforts in creating an eco-luxurious haven in the heart of the city."
AltoVita, the global corporate lodging platform, held the Altos after its Smart, Safe, Sustainable Summit on September 6th. 
Above you can see Winnie Shun, director of sales, Treetops Executive Residences (centre) being presented the award by Urska Blagojevic (left), marketing director, AltoVita, and Naveen Marshal, senior manager global mobility management, Siemens.
Treetops Executive Residences feature biophilic design with 200 exotic plants covering 60 per cent of the landscape, has a recycling system, offers energy-efficient systems with air filtration and Go Green Days where residents are encouraged to take public transport instead of driving. The property has a Platinum BCA status.
With its energy efficient system Treetops has reduced its energy consumption by 50 per cent which is the equivalent of 1,543 tonnes of CO2 per annum. It also saves 965,000 litres of water each year.
In recognition of another sustainable effort, Pan Pacific Serviced Suites Orchard, Singapore won the Most Innovative Use of Technology award for "its seamless integration of sustainability-focused amenities", such as filtered water faucets and PressReader digital publications, alongside wellness facilities and eco-friendly sky gardens.
For a full list of winners for the other categories in the Altos you can click here.
Image supplied by AltoVita