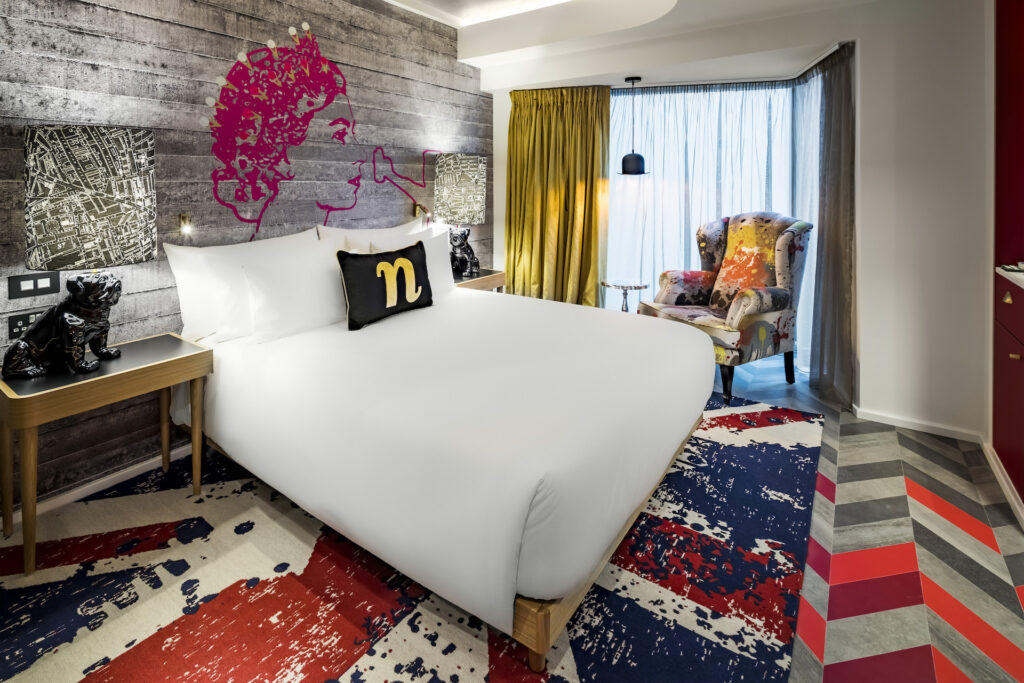 WORLDWIDE: A total of 173 NH Hotel Group properties have obtained sustainability certifications according to the company's latest sustainability report. Mark Caswell reports.
NH Hotel Group, part of Minor Hotels, has said 173 of its 350 properties have now obtained sustainability certification through programmes including Green Key and Hoteles + Verdes.  
The group's Sustainability Report for 2022 detailed certification for six new properties last year, with nhow London, and NH Collection Flower Market in Amsterdam both being awarded Green Key certification (a GSTC-Recognised standard).
Certification is part of the group's SBT 2030 Plan, which targets a 20 per cent reduction in carbon emissions throughout the entire value chain by 2030.
Other key parts of the report were:
BREEAM certification: NH Florida in Buenos Aires was certified under Argentina's Hoteles + Verdes (Greener Hotels) programme. Anantara New York Palace Budapest Hotel, nhow Amsterdam RAI and NH Collection Milano City Life have all achieved BREEAM certification. The group aims to add more BREEAM certifications to its current portfolio next year.
Bioscore: the report explains how the group's entire portfolio underwent Bioscore certification last year. Bioscore is a member of the GSTC and is "an independent assessment of a hotel for its level of sustainability through a rating based on ESG criteria". The process uses GSTC Criteria and a points system, which is based on ESG, to recognise the sustainability efforts made by each hotel. The process is done online. A total of 3 per cent of NH Hotel Group properties obtained Bioscore 'A+'(Superior) rating, with 27 per cent receiving an 'A' (Advanced) rating, 36 per cent being awarded a 'B' (Intermediate) rating, and 34 per cent obtaining a 'C' (Commitment) rating.
The Hotel Sustainability Basics Framework: NH Hotel Group, has long been involved in driving forward sustainability, (it has been a member of UN Global Compact since 2002), and in conjunction with other hotel companies, launched The Hotel Sustainability Basics Framework which "offers a common starting point for the sustainability of hotels, which is accessible to all players in the hotel industry throughout the world, regardless of whether they belong to a major international group or are independent hotels." This year, the hotel groups that participate in The Hotel Sustainability Basics Framework worked with the World Travel & Tourism Council, the Sustainable Hospitality Alliance and the principal stakeholders to finalise essential sustainability actions. They will collaborate and share suitable tools and practice with the other members of the initiative, and with the industry in general, to ensure that all hotels start the process towards recognised sustainability goals.
ISO 14001 certification and ISO 50001 certification: the group also said that at the end of 2022, 62 per cent of its hotels in Germany, Spain and Italy had obtained ISO 14001 certification for environmental management systems and/or ISO 50001 certification for energy efficiency systems for accommodation services, restaurants, meetings and events.
GHA's Green Collection: NH Hotel Group has 50 properties that have been recognised under GHA's Green Collection, which launched in April this year. The collection is one of the world's largest alliances of independent hotel brands, with around 200 hotels committing to a sustainable way forward.
Scope 3 emissions: the purchase of goods and services was the highest part of the group's Scope 3 emissions. According to the report, over the last two years, the suppliers with the largest carbon footprint have been identified in order to work with them on improving information channels, and seek alignment to reduce emissions in the value chain.
Food waste: as we have reported food waste is becoming a highlighted sustainability across the hotel sector. NH hotels has several systems and initiatives set up to tackle the issue, including an alliance in Spain, Portugal and Germany, with TooGoodToGo App to combat food wastage in its hotels. "Every day, through the app the Company offers surprise packs with unconsumed products from its morning buffet that users of the platform can buy at a reduced price to prevent them from being wasted. This year, 34,142 food packs have been saved, which represents more than 34,142 kg of food that has not been wasted and the equivalent of having saved the emission of 85.53 metric tons of C02eq." (See p.113-114 for other food waste initiatives)
For the full report, which covers suppliers, training and education, social and community aspects of sustainability, as well as emerging climate risks, click here.
Report by contributing editor, Mark Caswell
Image: nhowLondon from NH Hotel Group