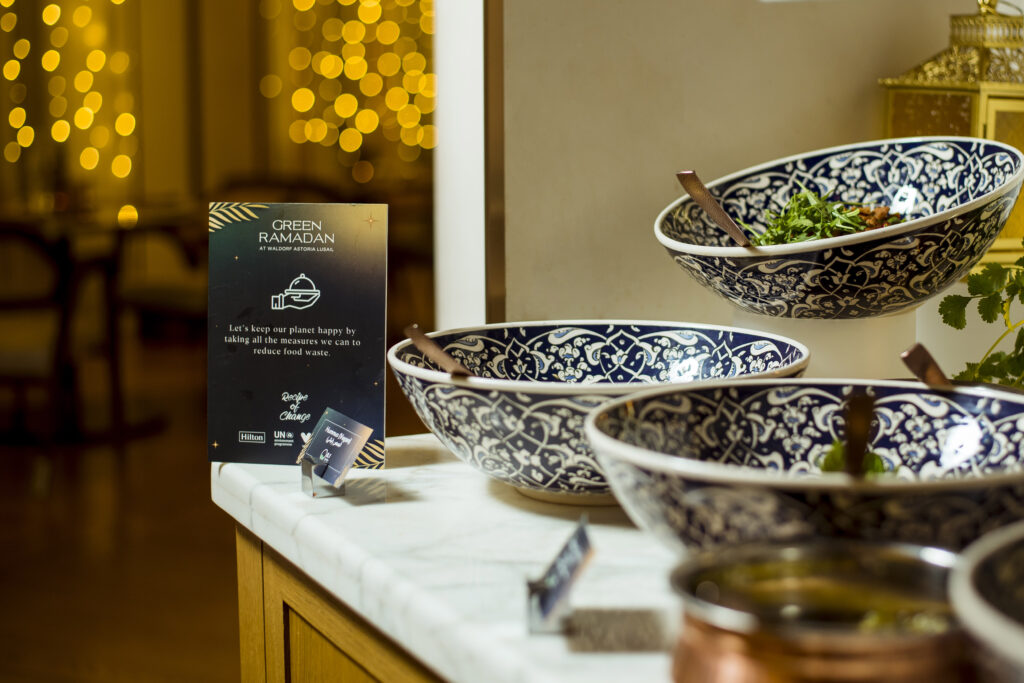 WORLDWIDE: Hilton has tested a new initiative to measure, manage, and mitigate food waste across key markets in the Middle East.
The Green Ramadan initiative was implemented in three of Hilton's hotels: Waldorf Astoria Lusail Doha, Conrad Dubai and the Hilton Riyadh Hotel & Residences.
The first week of the campaign served as a data baseline, and then interventions were put into place in the buffet and dining areas for the rest of the religious holiday. 
These interventions included offering smaller portions, signs with carbon emissions labelling, reduced food displays and live cooking stations.
Each participating hotel also looked at composting, local sourcing, sustainable gastronomy, and food donations. 
Data was collected using Winnow technology, which  builds artificial intelligence tools to help chefs run more profitable and sustainable kitchens by cutting food waste in half. Launched in a single staff restaurant in 2013, Winnow has now been adopted by more than 2,000 sites globally, operating in over 70 countries and we reported last week how Mandarin Oriental was trialling the system.
Data showed that 27,000 guests were served during the campaign and there was a 61 per cent reduction in waste, equating to serving over 8,600 meals, 4.8 tonnes of waste going to landfill and more than 14 tonnes of CO2 emissions. This is equivalent to a petrol car driving 35,890 miles.
Emma Banks, vice president, F&B strategy & development, EMEA, said, "The impact of Green Ramadan is a testament to the hospitality sector's influence over global food waste reduction efforts. The results are underpinned by hard data and real-world behavioural science, serving as a foundation from which we can continue to tackle the challenges of food waste. The campaign has shown great potential in becoming a long-term solution in the region, with the participating hotels already making operational changes to the ways in which food is served in their dining areas."  
Banks added that Hilton would continue collaborating with The UN Environment Programme (UNEP) West Asia and Winnow (AI food waste system). She said: "None of this would have been possible without our partner Winnow and their AI technology… There is no denying it – the future of hospitality is sustainability".
Hilton plans to roll out the Green Ramadan initiative across all its EMEA hotels in 2024.
Image: Supplied by Hilton