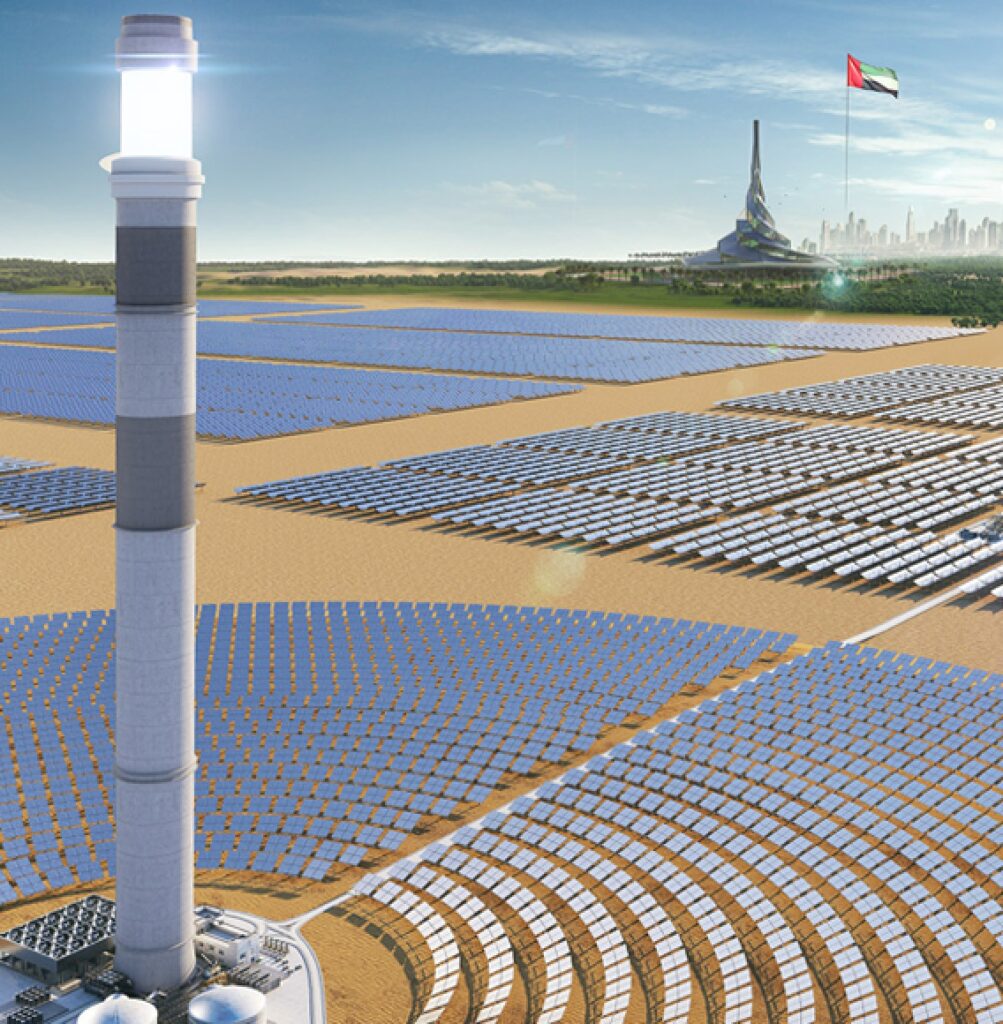 UAE: Dubai's FIVE Palm Jumeirah and Jumeirah Village hotels are the first in the country to obtain International Renewable Energy Certificates.
FIVE purchased the International Renewable Energy Certificates (I-REC) from the Dubai Electricity and Water Authority (DEWA) and its Mohammed bin Rashid Al Maktoum Solar Park to achieve 100 per cent solar powered electricity for its hotels. 
The Solar Park, which is the largest in the world, has a production capacity of 5,000MW by 2030. It uses photovoltaic solar panels and Concentrated Solar Power (CSP) technology, which produces 15.7 per cent of the total production capacity of energy in Dubai. When it reaches completion it will have the world's tallest solar tower, at 260 metres (pictured above).
FIVE's I-REC agreement was verified through the International Renewable Energy Certification Foundation, which is the global leader in standardised renewable energy schemes and sustainability claims.
DEWA promotes sustainability and the shift towards a sustainable green economy by increasing the share of renewable and clean energy within Dubai's energy mix. It is working towards the Dubai Clean Energy Strategy 2050, and the Dubai Net Zero Carbon Emissions Strategy 2050, to provide 100 per cent of Dubai's total power capacity from clean energy sources by 2050.
Saeed Mohammed Al Tayer, managing director and CEO, DEWA said:  "I congratulate FIVE on becoming the first and only hotel in the UAE to obtain the International Renewable Energy Certification Foundation (I-REC) to achieve 100 per cent renewable electricity for 2022. FIVE's commitment to sustainability is a role model for other businesses in the UAE and around the world at all levels."
Kabir Mulchandani, chairman and founder, FIVE said: "Ahead of COP28, FIVE's electric milestone demonstrates the power of collaborative innovation when two future-focused changemakers (FIVE and DEWA) come together in pursuit of Sustainable Development."
The company is a signatory to the UN Global Compact, a member of the Global Sustainable Tourism Council (GSTC). FIVE Jumeirah Village, FIVE Palm Jumeirah, and FIVE Hotels and Resorts are the only SPIRE Smart Building Rated hotels in the world and are also certified LEED Platinum.
IHG Hotels & Resorts recently announced a renewable energy offering for its hotels in select markets across the US, teaming up with Ampion, a leading provider of community solar solutions. Electricity generated by the solar panel projects will be fed into the local power grid.
Image: Courtesy of Mohammed bin Rashid Al Maktoum Solar Park