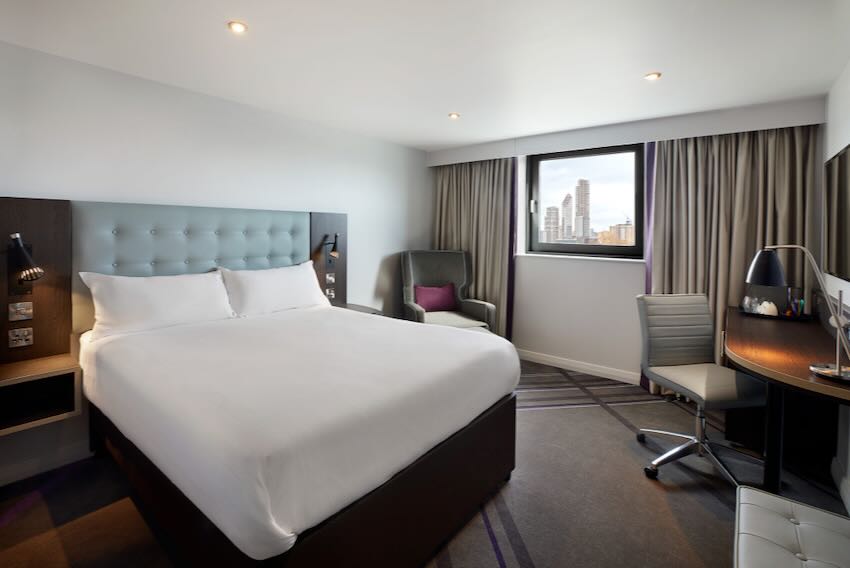 UK: Premier Inn has announced the opening of Premier Inn Swindon Town Centre – the first all-electric hotel for the brand on its road to net zero operations by 2040.
The new-build will operate with 100 per cent renewable energy and Whitbread will learn from the operation of the hotel to inform its strategy in removing its portfolio from the gas supply by 2040. All new-build Premier Inns are to be built to this specification from 2026.
Richard Aldread, head of construction in the UK regions and Ireland for Whitbread, said: "By welcoming guests to our first all-electric budget hotel in the UK, we are opening the doors on the future. Swindon's 100 per cent renewably powered Premier Inn shows that sustainability and affordability can be two sides of the same coin and is part of a string of investments in innovative, sustainable properties at Whitbread."
He added that the group has ambitious plans to expand the number of Premier Inn bedrooms with a potential of 125,000 rooms in the UK and Ireland, up from 83,500 currently, "and this should not happen at the expense of net zero commitments."
The hotel is the group's first hotel without connection to a mains gas supply and is the result of research and design into operating lower-carbon hotels helping reduce direct operational emissions by over 50 per cent since 2016. 
Jim Robbins, leader of Swindon Borough Council, said: "I'm proud to see Whitbread take the lead and invest directly in Swindon with a large new sustainable hotel on a site that was once an old Council office building, especially as it aligns with our own Achieve Net Zero Mission. 
"Its all-electric design shows what can be achieved even in tight town centre locations and I hope the new hotel encourages other investors and developers in Swindon to follow suit and invest in low carbon design elsewhere in the town centre."
Premier Inn Swindon marks a significant milestone towards Whitbread's commitment to reaching a position of no operational emissions by 2040 and net zero by 2050 – with its targets approved by the Science-Based Targets initiative (SBTi).
The hotel's sustainability features include:
An energy-efficient air-to-water Mitsubishi Q-Ton CO2 Heat Pump to heat water, low energy LED lighting with lighting controls and metering connected to a battery monitoring system with auto monitoring and targeting of energy use.

Solar photovoltaic panels installed on-site, with the hotel to purchase only renewable electricity from the grid – in line with all of Whitbread's owned operations in the UK and Germany.

A building envelope designed to meet BREEAM 'Excellent' standards, using an innovative Passivhaus-influenced 'fabric first' design to optimise energy use. 

Minimised heat exchange with the outside through the use of natural sunlight and re-use of heat generated by electrical equipment.

Mechanical ventilation with passive heat recovery and an air source heat pump to keep the building at an optimal temperature in all seasons
We reported news of the Swindon hotel in June.
Image: Supplied