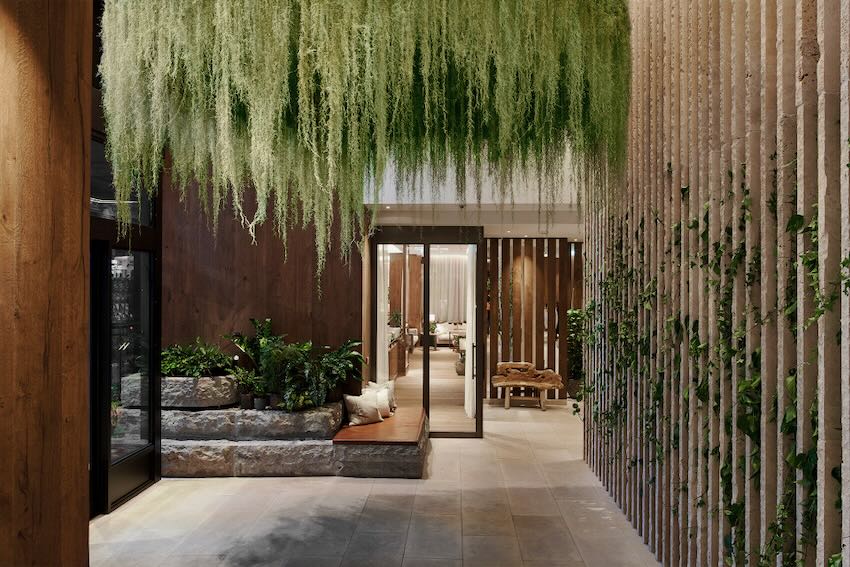 UK: SH Hotels & Resorts' flagship UK hotel, the sustainability-focussed 1 Hotel Mayfair, has officially opened today.
Located in London's Mayfair, overlooking Green Park, the new hotel has sought to bring the natural world to the capital through vertical landscapes, sustainable design, farm-to-table food, and nature-inspired immersive experiences.
The hotel also has more than 1,300 individual plants and 200-plus local and native plant species throughout the property—and there is a custom-crafted "living" chandelier by nature-inspired artist Patrick Nadeau, suspended from the lobby ceiling: It's made up of 50,000 strands of air plants. 
1 Hotel Mayfair is the UK's flagship and first European destination for the brand developed by SH Hotels & Resorts in collaboration with Crosstree Real Estate Partners. 
Barry Sternlicht 1 Hotels' founder and SH Hotels & Resorts chairman said: "We are thrilled to bring our brand's one-of-a-kind blend of nature and culture, sustainability and luxury, and a holistic focus on health and wellness to what has been a hub of heritage for generations."
Sean Arnold and Nick Lyle, founders, Crosstree Real Estate Partners said: "With 1 Hotels' signature biophilic design combined with its deep-rooted passion and authenticity around environmental responsibility, 1 Hotel Mayfair is a fresh addition to London's hotel scene." 
1 Hotels' commitment to sustainability and biophilic design principles started at the beginning with the decision to reuse and renovate two pre-existing Mayfair buildings, as opposed to constructing from scratch. 
The resulting retention of over 80 per cent of the existing structures reduced the amount of embodied carbon produced during demolition and construction, mitigated construction waste and debris, and helped the project to meet BREEAM Excellent standards.
1 Hotels has partnered with Livia Firth's Eco-Age, a sustainability consultancy, to ensure that environmentally focused initiatives are both credible and forward thinking and also operates a fully automated guest room management system, which reduces electricity by adapting to when guests are in or out of the room.
1 Hotel Mayfair offers guests access to a fleet of electric Audi house cars—featuring the Q8 e-tron, Q8 Sportback e-tron, and RS e-tron GT. The cars are available daily to shuttle guests around the neighbourhood.
Other details include, the reception desk which is a rough-cut from a single 200-year-old weathered oak tree culled naturally from the Balcombe Estate in West Sussex. 
Design details in the rooms include responsibly sourced British oak flooring, to a private bar made with timber and responsibly hand-wrapped woven jute. There are also nightstands carved from sustainable wood, chalkboard notepads fashioned from reclaimed tree stumps, artisanal leather baskets, and trays hand-crafted by local makers.
The hotel offers a spa and several eateries including Dovetail, helmed by two Michelin Star chef Tom Sellers.
SH Hotels & Resorts, an affiliate of global private investment firm Starwood Capital Group, is a sustainable hotel brand management company that operates 1 Hotels that launched in 2015. Locations include South Beach and Manhattan, Brooklyn Bridge, West Hollywood, Sanya (China), Toronto, San Francisco, Nashville, Hanalei Bay and now the brand's first European property in Mayfair, London.
1 Hotels which are in development include in Cabo San Lucas, Paris, Elounda Hills (Crete), Austin, Copenhagen, Riyadh and Melbourne.
SH Hotels & Resorts also operates Baccarat Hotels & Resorts, and Treehouse Hotels, which premiered in London in 2019, with projects under development in Manchester, Sunnyvale, Brickell (Miami), Adelaide, Australia, (see below) and Riyadh.
Image supplied.