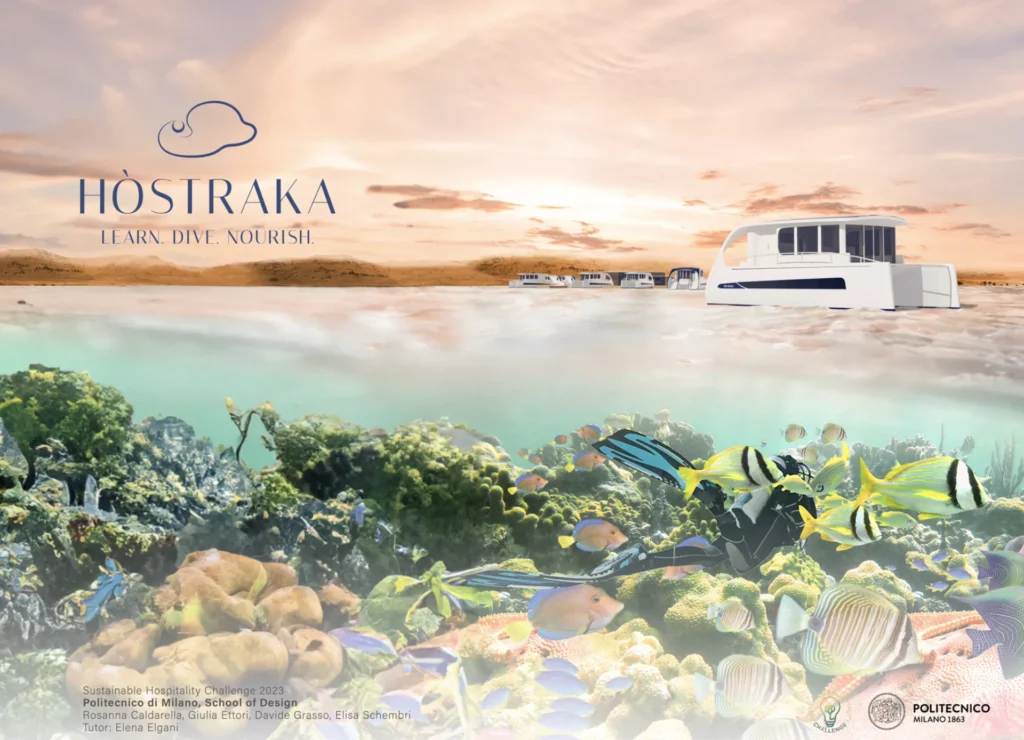 MIDDLE EAST: The winners of the Sustainable Hospitality Challenge (SHC) 2023, by Hotelschool The Hague, have been announced at the Future Hospitality Summit in Abu Dhabi.
The SHC is a Hotelschool The Hague initiative that aims to enhance the evolution of sustainable hospitality. Hotelschool The Hague was founded in 1929 and is one of the oldest independent hotel schools in the world. 
The annual competition, sponsored by the NEOM Hotel Development, is dedicated to taking on the challenge of designing a hospitality concept that offers solutions that embrace sustainability and cater to the evolving needs of modern travellers. 
The winners of the Sustainable Hospitality Challenge 2023 were the team from Politecnico di Milan for their groundbreaking concept, HÒSTRAKA.
Hòstraka is a floating resort dedicated to sustainable diving and sea experiences, and is leading the way in protecting marine ecosystems, while proving that sustainable lifestyles can coexist with exceptional marine adventure.
The team comprising Giulia Ettori, Rosanna Caldarella, Davide Grasso, and Elisa Schembri explained their inspiration was drawn directly from the ocean, "taking a page from the remarkable oysters' playbook, which can turn adversity into shiny pearls."
The idea is that guests can experience private mobile suites while actively participating in the collection of microplastics from the sea. 
The winners demonstrated a commitment to crafting the future of sustainable tourism and hospitality through cross-disciplinary collaboration.
Chris Newman, executive director of hotel development at NEOM, said: "Congratulations to the winners of this year's challenge who presented an innovative hospitality concept with an environment-centered design."
Glenn Mandziuk, chief executive officer at Sustainable Hospitality Alliance, a partner of the challenge, said: "These remarkable students have not only earned recognition for their groundbreaking ideas but will also have the unique opportunity to present their project at the prestigious WTTC Summit in Rwanda. The WTTC Summit is a global event that brings together leaders from the travel and tourism industry to discuss pressing issues and innovative solutions for a sustainable future."
The Sustainable Hospitality Challenge 2024 will be a little different featuring an even larger tech, design, and engineering cohort, fostering interdisciplinary collaboration and innovation. 
Participants will be challenged to develop solutions that are not only sustainable but also investable and ready for the market.
Check out our Q&A with Jo Berrington, brand ambassador Yotel as she mentions Yotel Oxagon opening on NEOM in 2025.
Image: Hotelschool The Hague