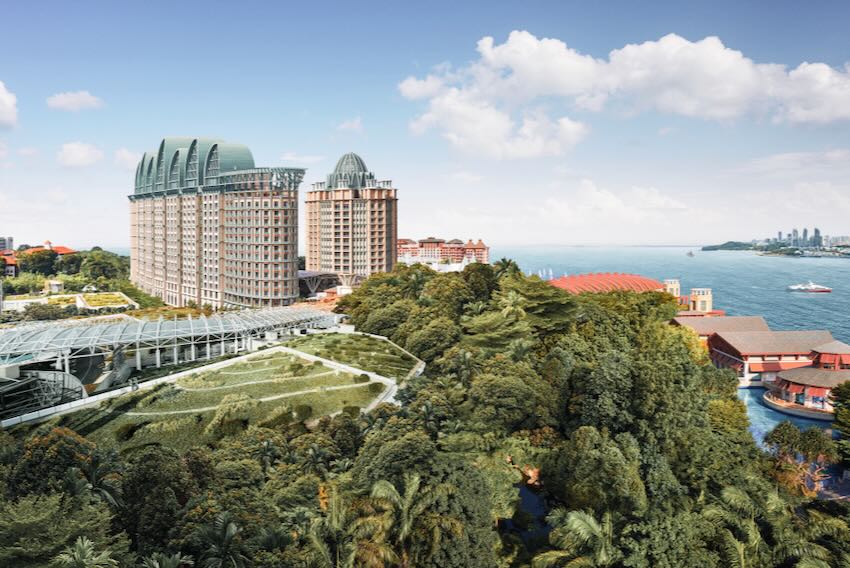 SINGAPORE: Resorts World Sentosa has won the Sustainability Initiative of the Year accolade at an awards event in Singapore.
The inaugural Singapore MICE Awards (SMA) aims to celebrate contributions to the Singapore meetings, incentives, conferences and events industry.
The "Sustainability Initiative of the Year" award recognises Resorts World Sentosa (RWS) for its outstanding sustainability practices for MICE, which includes carbon and waste reduction at trade shows and conferences.
RWS is an integrated resort located on Singapore's Sentosa island. Covering 121 acres the destination offers attractions such as Universal Studios Singapore, S.E.A Aquarium, Dolphin Island and Adventure Cove Waterpark.
It is also set to host more than 500 MICE events this year including Asia's 50 Best Restaurants 2023 awards ceremony and Business Network International (BNI) Singapore National Conference.
Next year will see RWS as the host venue for the Global Sustainable Tourism Council Global Conference as the major international event takes place in Singapore for the first time. 
Some of RWS' latest sustainability practices include commissioning works to quadruple its solar panel sites in 2023, and its holistic waste management system which has reduced operational waste-to-landfill intensity by 49.3 per cent since it became fully operational.
As part of RWS' wider goal to achieve carbon neutrality by 2030 the integrated resort has partnered with Honeywell Building Technologies, which will set up Singapore's first large-scale cloud-based Building Management System (BMS) to drive energy reduction and decarbonisation. 
The Singapore Association of Convention and Exhibition Organisers & Suppliers (SACEOS) works with RWS for industry feedback for Singapore MICE and guidelines for waste and carbon emissions management for MICE events.
Loh Su Kim, SVP, attractions & sustainability, RWS said: "We are honoured to receive the Singapore MICE Award for Sustainability Initiative of the Year and would like to thank SACEOS and the organising committee for recognising RWS' commitment in driving and catalysing positive change in the MICE industry. We firmly believe that sustainability is a key driver for long-term success in our industry and hope to inspire others to create enduring impact and forge a more responsible world."
Richard Ireland, president, SACEOS, said: "Together with the MICE community, we would like to congratulate RWS for winning the Sustainability Initiative of the Year award at the inaugural Singapore MICE Awards. With Sustainability at the forefront of the industry's priorities in this new chapter of growth, RWS' commitment and leadership in driving greener events has inspired the industry in their respective sustainability journeys. Their well-deserved achievement has set new benchmarks of excellence and raised the bar for innovation in MICE Sustainability."
In 2021 RWS was also the first destination in the world to achieve both the Global Sustainable Tourism Council (GSTC) Destination Criteria and GSTC Industry Criteria for Hotels.
You can read more about the GSTC here.
Image supplied