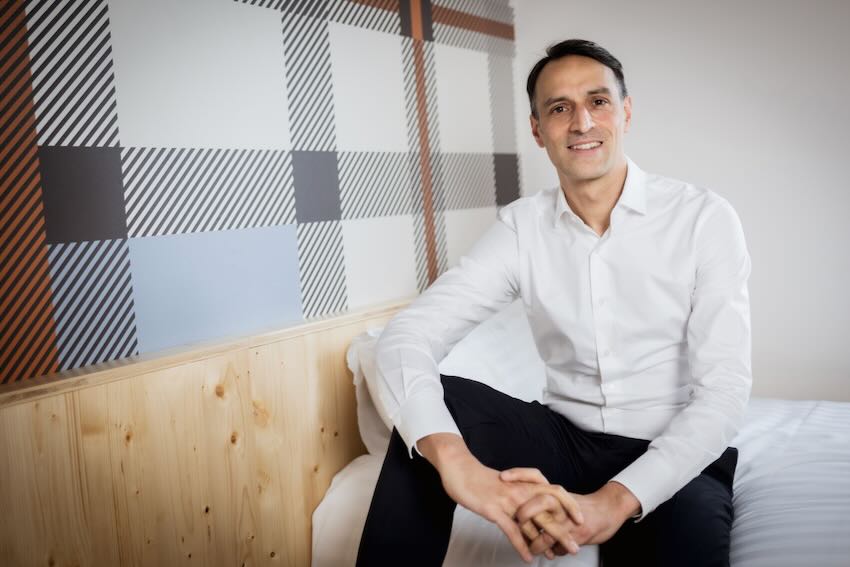 easyHotel has recently announced a £4.5 million investment into sustainability initiatives across the bulk of its UK hotels. We sat down with Karim Malak CEO easyHotel, to talk about his focus on driving easyHotel forward in carbon reduction, looking at everything from construction to operations and keeping a diverse and friendly team.  
How eco conscious are easyHotel guests and have you seen a change in attitude towards sustainability?
KM: We often quote a statistic from a study by Accenture, which was done in 2021, that 58 per cent of consumers are thinking more about sustainability now than when the pandemic started, but we are in the value sector and a lot of our clients are more after a good price than the sustainable option. Sustainability is in their list of concerns but maybe not at the forefront, so it's up to us as a company to make up for that and make sure we can offer the super price but also a super low carbon offering to satisfy both angles. That said, in one of the consumer studies we have carried out lately, even though price is still the top priority in our customers we are seeing the trend in younger customers that sustainability and low carbon credentials start to come up. 
What about business travel and companies asking for data from you for their ESG reporting? Are you seeing much of this?
KM: Not directly because we have more of a direct to consumer approach than some of the other hotel chains. In the hotel business you have RFPs (requests for proposals) when companies will question the ESG credentials of hotel chains, and we do some of those but not many. Of course we boast about our low carbon credentials in those RFPs but we are probably less concerned with that than other companies. But if you look at direct to consumer channels and intermediaries and OTAs they show the leaf system of sustainability, so the labels and the credentials are being pushed forwards by all the intermediaries whether for business or leisure travel.
I suppose that puts the pressure on easyHotel to show what sustainability initiatives you are doing to get that "green leaf" on certain OTAs? 
KM: Absolutely, but we focus a lot on what we believe is the most important topic, which is low carbon, whereas sometimes these leaf systems mix a lot of different things, which are not the same importance. For me there is one criteria and that's carbon emissions and to an extent the rest is, I wouldn't say an accessory, but you can't put the same level on carbon emissions with other things like providing local knowledge…
Talking of local knowledge, a lot of hotel groups are now trying to create a community around them and talking about being part of the local culture. Would you say easyHotel is not going to go down that road?
KM: That's an interesting point as we probably haven't brought that forward enough but I consider we are more democratic and local than most of the hotel chains out there. First of all because we offer super price and value for money these are rooms used by locals in many locations, like close to airports such as Paris CDG, or in London. We have many rooms used by locals to put up their families when they come over and so we are actually a hotel for the people living in the local area, not just for the tourists or people coming by. So I believe in a way we are more of a community.
Second, a lot of other hotel chains want their customers to stay in the hotel. Take your breakfast in the hotel, go to the gym in the hotel, take lunch in the hotel, do a conference in the hotel and then take a drink in the hotel, whereas we are completely opposite. …we push our clients to explore the local community – to shop in the local shop, to have a drink in the local pub, to go to the local restaurant, to use the local breakfast options. So actually I believe we are more communal and local than most of the hotel chains out there because we don't consider our customers as just walking wallets.
And do you still stand by the theory that a budget hotel like easyHotel is more eco friendly because they are more compact?
KM: Yes. You have more compact rooms and that means less concrete, less material, and less is always better. Less material is less energy. And you have a leaner business model so we tend to have less waste and there are less frills. Frills are also carbon intensive so no frills means no carbon. So yes, intrinsically there is an argument that low cost is low carbon. It's always been the case if you remember the beginnings of easyJet for example, having new planes because they are more fuel efficient and putting more people on the plane because that means there is less carbon per km.
Reducing carbon emissions is looking after 90 per cent of the problem but what about removing carbon – the carbon removal companies say if the hotel sector wants to reach net zero it will have to remove the last 10 per cent of those emissions. What are your thoughts on that?
KM: Let's talk about the initiatives we are already doing. On the one hand we are investing £4.5 million, and actually a bit more, in our UK hotels to lower the carbon footprint and the idea is to be on the CRREM pathway (carbon risk real estate monitor) target for 2032 by 2025 – so we will be seven years ahead. We are still going to put in the meters and the heat pumps for scope 1,2, so that's what we are doing at the moment. We are not there yet, I believe, on the last 10 per cent so I can answer that a little later on. For the moment the focus is on reducing emissions and then single-use plastic, so all the plastic key card and plastic bottles have been removed and soda bottles are replaced by aluminium cans. In the hotels which serve breakfast we have got rid of all plastic packaging. 
As part of easyHotel's plan to be as low carbon as possible, the group has also partnered with Kanso, a carbon-neutral facilities management company, for all cleaning across its owned and leased UK hotels. Initiatives such as removing plastic bin liners from rooms and using refillable recycled bottles has led to a 42 per cent decrease in easyHotel's plastic waste associated with hotel cleaning since September 2022. 
We are also focusing on all the newbuild hotels. We have a new room model which we have had evaluated by third parties to be 20 per cent less carbon intensive than competitors.
How has that happened? What changes have been made?
KM: We made the changes but their methodology is in the life cycle of the room because 80 per cent of it is construction and 20 per cent is operations. We have more compact rooms than competitors, which is probably half of it, and the other half is that we have recycled and recyclable material and making sure the different furniture and pieces we are using have all the proper credentials. 
This brings me to scope 3 emissions – it's kind of an impossible task for the hotel sector. What are your thoughts on suppliers' emissions and having that mountain to climb?
KM: It's easy for us to focus on scope on 1 and 2 but its also our responsibility to push clients to use public transport, which is also scope 3, but also our suppliers. So for instance Kanso the suppliers we have for cleaning, (as mentioned above) is embarking on zero carbon so we are looking at suppliers from that perspective as opposed to a direct economic perspective.
If you consider construction as scope 1, that is a big part of the entire carbon footprint as opposed to just operations. If you look at operations scope 3 becomes more important, but if you look the lifecycle of a building then scope 1 is really important. There are three levels; there is refurbishing and renovating existing buildings rather than building from scratch and with real estate investors wanting to invest in hotels rather than offices, that makes sense. Another is in new developments using our new room model, and thirdly on existing buildings all the initiatives we are doing with heat pumps. 
Premier Inn will open its first all electric hotel in Swindon later this year. Has easyHotel got any plans for all electric hotels? 
KM: No we haven't looked at that – at the moment we are looking at the heat pumps so that's another way of dealing with energy consumption.
What about easyHotel as a diverse hotel group?
KM: Take a look at the teams and you will see we are a super diverse company. You'll see all sorts of backgrounds in our executive teams and all sorts of backgrounds in our hotel teams and that stems from the culture and approach of friendliness, which you also found in the early days at easyJet, where we have a "come as you are policy".
We encourage people to be authentic and who you are and that comes with your background and your different identities. We are very much attached to that and friendliness is a differentiating factor in our recruitment. I would say the hotel business being a service business you need to have people who are not pretending and who are authentic, so it all makes sense from a business perspective. If we look at our policy then 50 per cent of our leadership is female, which is probably much better than what you see in other sectors.
Has that happened organically or have you had to push that?
KM: It just happened more or less naturally. I think it's a sector that inherently does not have an image of being more male or female. It's sort of a gender neutral industry. I think it also has an image of being friendly towards LGBTQI+ groups as well and there are different OTAs which have labels if the hotel is LGBTQI+ friendly during pride and we are making sure we have the right labels there. Also being in the hotel sector and being an employee in a hotel you have to inherently welcome guests from all sorts of creeds and religions and countries intrinsically. We still do diversity training for our staff to just to make sure all the right standards are upheld and make sure everyone has the right information.
What's the biggest challenge facing the hotel sector when it comes to sustainability? What's everyone talking about?
KM: It used to be all about carbon offsetting but there has been a huge backlash on that and that's the main change I've been seeing in the past two to three years. People are having to do more than saying they are carbon offsetting or asking clients not to use towels. You have to do more material things and carry out more actions.
I think it's all about buildings and 80 per cent of the whole issue is in construction, so it's how you optimise real estate, especially if you have historical buildings with poor windows and poor insulation. Then you find the debates about preserving historic buildings or do you make them them less carbon intensive, and I think that will be the main debate in coming years.
Regular readers will notice this is a slightly longer format of our Q&A. It will form part of our new series. Leading the change: The lowdown from sustainability experts and those in hotel leadership. 
Image: easyHotel