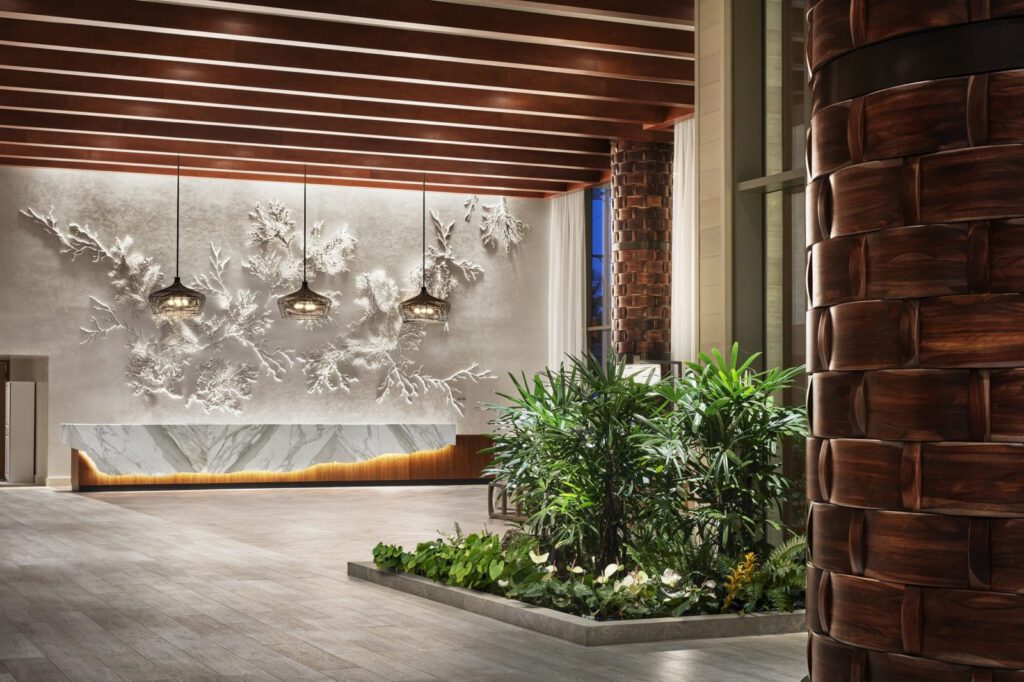 WORLDWIDE: Real estate investment and hospitality management company Highgate has outlined a series of sustainability goals in its first ESG report. Mark Caswell reports.
The group's portfolio comprises over 80,000 rooms across more than 500 owned and/or managed hotels in the US, Europe, Latin America, and the Caribbean, with nearly half of its properties falling under the Marriott family of brands.
The ESG report highlights that more than 200 of Highgate's hotels are now powered by 100 per cent renewable energy, through investment in Green-e certified renewable energy certificates (RECs). Green-e focuses on clean energy and carbon offset certification, helping businesses (and individuals) to purchase verified clean energy.
Other areas of focus for the group's sustainability programme include requiring its hotels to install smart thermostats in guest rooms, and 100 per cent LED lighting, as well as reducing food and landfill waste, eliminating single use plastics and supporting biodiversity projects.
Highgate is also performing an analysis of onsite solar and battery storage opportunities across its portfolio, and by the end of this year all full-service properties will offer parking areas with electric vehicle charging stations.
Highgate said that it had cut greenhouse gas (GHG) emissions by 21.8 per cent and energy use by more than 170,000 megawatt hours (MWh) when comparing 2021 with 2019. To put that into perspective, one megawatt hour (MWh) is the same as 1,000 kilowatts of electricity generated per hour. Over the next two years the group will be collecting environmental data from its suppliers, including greenhouse gas emissions metrics.
Individual properties, which have been highlighted in the report include the Alohilani Resort, which recently became the first hotel in Hawaii to commit to the internationally recognised PAS 2060 Standard for Carbon Neutrality. PAS 2060 was developed by the British Standards Institution in 2009 to create a common definition and method to achieve carbon neutral status. Alohilani Resort has partnered with the Hawaii Legacy Reforestation Initiative to reforest more than 1,200 acres of trees, and has installed water bottle refill stations throughout the property.
Other hotels of note are, The Graduate Roosevelt Island, which was awarded LEED Silver certification for new construction, and the Hyatt Regency San Francisco Downtown SOMA, which completed a property renovation using 60 per cent of products made from recycled, sustainably harvested or rapidly renewable materials. Check out our Glossary of Sustainable Hotel terms for more information on some of these phrases.
As well as Highgate's sustainable practices the ESG report highlights the group's work on diversity, equality and inclusion, including its 'Opening Doors Together culture' which aims to "support a culture where all associates are accepted, valued and encouraged to fully engage with each other and the Company".
The company has also launched a self-paced learning "designed to expand learners' understanding of various types of bias and microaggressions", with the training including during the on-boarding of new employees.
Commenting on the report, Highgate's CEO Arash Azarbarzin, said: "We all share an urgent responsibility to reduce our impact on climate change, and this is especially true for the hospitality industry. Highgate is very proud to be a leader on this front by presenting this analysis that can serve as a roadmap to help drive hospitality management toward a net-zero future without compromising the guest experience."
The full ESG document can be read here.
Report by contributing editor, Mark Caswell.
Image: Reception Alohilani Resort – Courtesy of Alohilani Resort Gallery