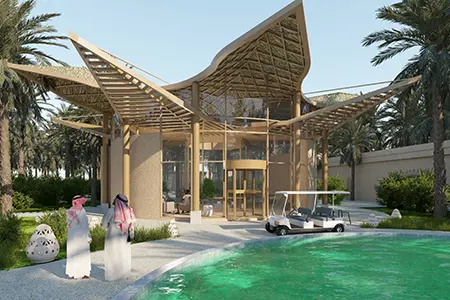 UAE: Luxury eco-lodge management company ENVI Lodges, which specialises in low-impact accommodation, has revealed details of its debut project.
Located in Saudi Arabia's UNESCO World Heritage site Al Ahsa Oasis, the new resort will offer 25 one and two-bedroom lodges, as well as a "farm-to-table" restaurant, café and spa.
The company launched in late 2021 and ENVI Al Nakheel in Al Ahsa will be the first property to open early next year, followed by others in Saudi Arabia later in 2024 and Costa Rica in 2025 (with more to be announced soon).
All of ENVI Lodges will be members of Beyond Green, which helps guide companies "one step at a time" to achieve their sustainable goals. The Beyond Green website says it helps companies  "prepare for net zero". To achieve these goals the ENVI lodges will go through a rigorous process based on globally recognised sustainable tourism standards and the United Nations SDGs. Every two years, the lodges will undergo an on-site evaluation, based upon more than 200 sustainability indicators. 
The current focus for the company is ensuring sustainability in the construction  process, with low-impact modular construction models, no concrete used, and local and natural materials used where possible. Sustainability targets will come into play once the lodges are operational. However, once open ENVI will be implementing renewable water and energy systems, in an effort to become carbon neutral and "are committed to becoming plastic-free, reduce water consumption, recycle and use eco-friendly cleaning products."
Nöelle Homsy, co-founder, ENVI Lodges said: "Our debut project, ENVI Al Nakheel, is not only a design triumph, but demonstrates our steadfast commitment to sustainability, with each eco-lodge inspired by the location and built with local and sustainable materials that mitigate damage to the environment."
As LEED and BREEAM certificates are given to properties rather than brands, these certifications will only be relevant once ENVI us up and running.
Here's a breakdown for ENVI Lodges' sustainability pathway:
Saudi Arabia's National Tourism Strategy and the Kingdom's Vision 2030 plan aims to encourage "non-oil growth" .
Made out of temporary structures that are installed on platforms and have minimal contact with the ground.
ENVI does not use concrete and aims to source most materials locally.
Once open, there will be no single-use plastic used.
Produce will be grown on property where possible and the aim is to source 50 per cent of ingredients from local farmers, with seasonable menus offered.
The goal is that a percentage of energy sourced will be from renewable sources. According to the website – 100 per cent renewable energy is not possible because of the energy required to cool down buildings in Middle East temperatures.
Cultural preservation is key: for example, local artists be invited for workshops or to display their art.
Crucially, experiences offered at the lodges will be designed to engage guests, educate them and involve them in ENVI's sustainable initiatives, which it believes has the biggest ripple effect.
ENVI Lodges has a CARE programme (Care, Awarenees, Responsibility and Engagement). There is a lot of focus on education and engagement with the community and guests.
Image Courtesy: Al Nakheel