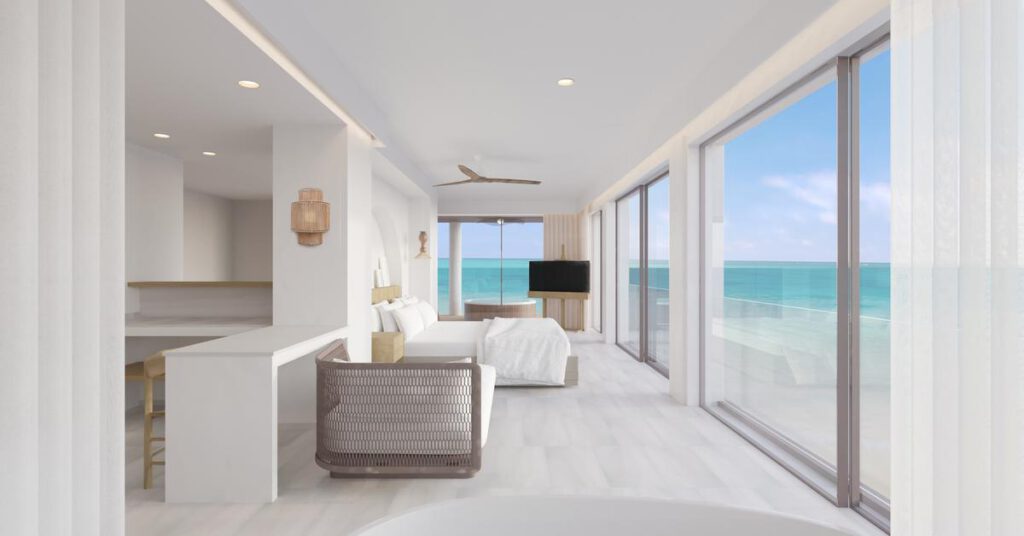 SPAIN: Menorca will have its first carbon neutral five star hotel at the end of this month.
The  Villa Le Blanc By Gran Meliá, will open at the end of July and is the latest opening for the Leading Hotels of the World.
It's Gran Melia's first carbon neutral property out of the 15 in its portfolio.
The hotel aims to achieve its carbon neutral status by incorporating facilities and technologies that will enable it to reduce its scope 1 and 2 emissions by 87 per cent. Carbon neutral status does not include the emissions from the building, renovating or construction of a building, known as embodied carbon.
The hotel will also look at alternatives to offset the remaining emissions ensuring when it is operating it keeps its carbon neutral status (net zero). The renovation included installing biomass boilers, photovoltaic solar panels and using geothermal energy for condensation. This is where engineered geothermal systems (EGS) can use the carbon dioxide from condensation as a heat extraction fluid instead of using water, making it much more environmentally friendly.
The building will feature a SATE External Thermal Insulation System, which is when buildings are thermally and acoustically insulated from the outside.
The building will also use a circular water system so that grey water and rain water can be re-purposed, reducing the amount of water being used.
The hotel was previously a Sol Beach House Hotel but has been renovated by architect Alvaro Sans to include 159 rooms including a Penthouse Suite, a Swim-Up Master Suite and a Presidential Suite.
The island of Menorca was declared a Biosphere Reserve by UNESCO in 1993.
Gabriel Escarrer, vice president and CEO of Meliá said: "Villa Le Blanc is a dream come true for our company. A project like this allows us to move forward towards hotel decarbonisation. It is also in such a special place as the Biosphere Reserve of Menorca, making it one of the most tangible results of our commitment to a hotel model based on excellence, responsibility and sustainability."
The Villa Le Blanc Hotel is located on Santo Tomás Beach on the Migjorn coast, halfway between Mahón and Ciutadella.
Image credit: Gran Melia