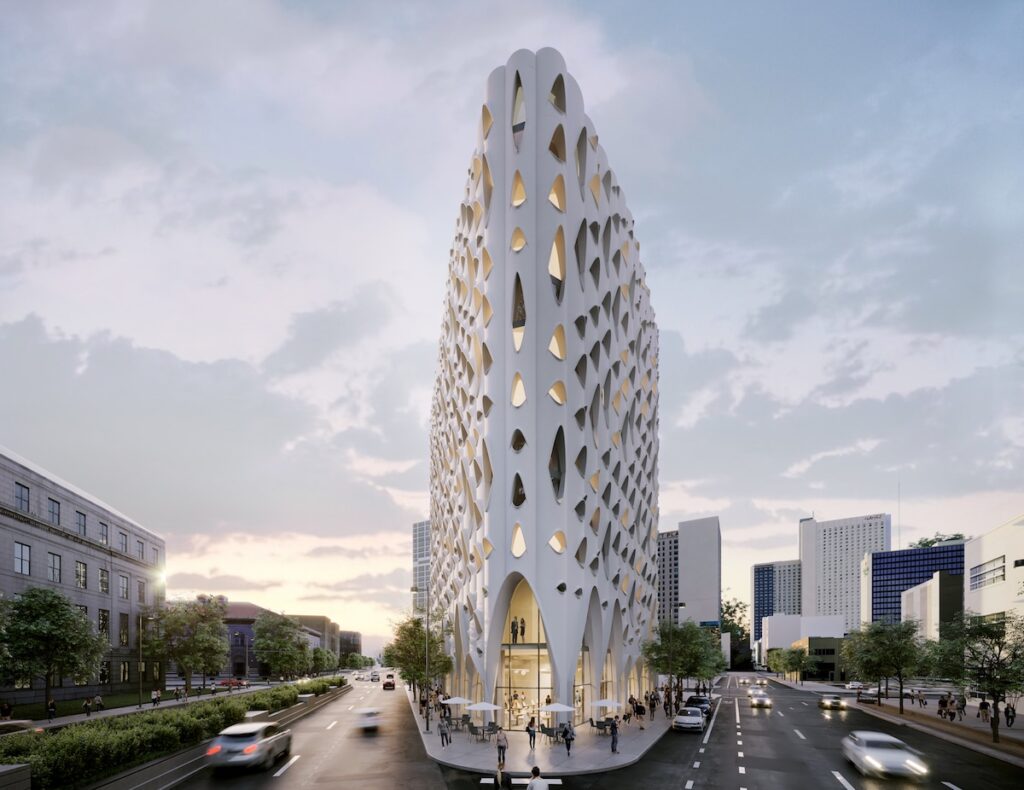 US: Developer Urban Villages will open the US' first carbon negative hotel in spring next year in Denver, and another one in Seattle in the summer of 2024.
Populus will be a contemporary 265-room hotel, designed by Studio Gang, and is set to open in spring next year. 
Located in downtown Denver, the hotel will be carbon negative through its sustainable design and carbon sequestering scheme. The hotel will also plant trees (representing 5,000 acres of forest) to help offset the embodied carbon created during its build.
Being carbon negative means going beyond carbon neutral / net zero. An example of a net zero hotel is the US's The Hotel Marcel. The Hotel Marcel is the first net zero hotel in the US in its operation, but not its construction. To be carbon negative involves a strategy which looks at the carbon footprint of the hotel's operational operational side as well as the building and its construction (see our piece on embodied carbon).
Jon Buerge, chief development officer and partner at Urban Villages said: "We've created Populus to be a catalyst for change and to meet the increasing preference by today's consumers to travel responsibly, experience places in an authentic way, and connect more deeply with nature and each other."
Urban Villages is also opening a second carbon negative hotel next year in Seattle in the summer. The city will welcome the 120-room Hotel Westland, in the Pioneer Square neighbourhood.
The new hotel will be a transformation of an existing building, which was built 1907, and will offer a restaurant, cafe, meeting and event spaces and a rooftop bar.
Hotel Westland will achieve its carbon negative status because it will capture the carbon it emits and remove any additional carbon from the atmosphere. By redeveloping the existing building, instead of demolishing it and creating a new build, its embodied carbon footprint is reduced by 36 per cent (the equivalent of driving a car 2.2 million miles).
Developers also decided against putting car parks in both hotels to reduce carbon emissions and architects added thermal insulation and insulated interior windows to increase energy efficiency.
Image: Populus exterior courtesy of Studio Gang