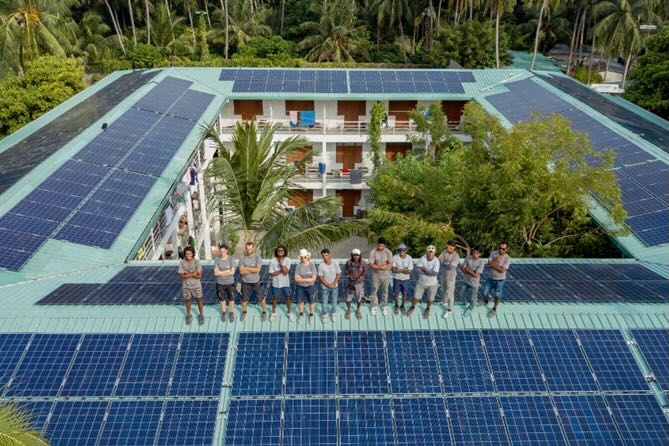 WORLDWIDE: Dusit International is rolling out a new sustainability programme,  The Tree of Life, with four levels to achieve.
The group-wide sustainability initiative is initially being rolled out to all Dusit Hotels and Resorts worldwide, including 54 properties operating across 19 countries. 
Designed by the company's Sustainability Committee, the Tree of Life programme has 31 criteria aligned with some of the 17 UN SDGs, as well as industry-specific targets.
The programme has a mandatory level, which all hotels must reach, encompassing eight criteria (listed below) which are designed to promote sustainability and responsible practices across the group. 
Once this mandatory level one is complete, in order to progress, properties must achieve level two, which has 18 criteria.
Level three has 23 criteria and the top level four has 28 criteria. 
Guests, customers, and partners can see what level a property has achieved based on the number of 'leaves' it has been awarded from the Tree of Life.
Suphajee Suthumpun, group CEO, Dusit International said: "Implementing the Tree of Life programme at Dusit International is not only a strategic move but also a reflection of our deep-rooted values as a company…. This initiative reinforces our unwavering commitment to environmental stewardship, social responsibility, and strong governance practices."
Suthumpun, who leads the group's Sustainability Committee, added that by aligning with global sustainable development goals and industry-specific targets,  "the Tree of Life programme serves as a catalyst for transformative action."  
The Sustainability Committee will check the progress of the programme and conduct audits to assess compliance, as well as keeping aligned with emerging global standards and best practices.
Gilles Cretallaz, COO, Dusit International, said: "Through our Tree of Life programme, our hotels and resorts will embark on a transformative journey that intertwines sustainability with the very fabric of our operations."
Dusit International has been reporting on its sustainability since 2012 but the last report released was for the period 2018-2019. You can see the reports here.
The group's portfolio of hotels, resorts and luxury villas includes approximately 300 properties operating under seven brands (Dusit Thani, Dusit Devarana, Dusit Suites, dusitD2, Dusit Princess, ASAI Hotels, and Elite Havens) across 19 countries.
The group also operates culinary schools and hospitality colleges in Thailand, plus catering companies for the education sector in Thailand, Cambodia, and Vietnam.
The eight criteria to get to level one of the Tree of Life
The protection of vulnerable species
The minimisation of food waste
The reduction of single-use plastic
The implementation of effective waste segregation methods to enhance recyclability
The promotion of energy conservation and efficiency
The prioritisation of staff and customer well-being through robust safety management practices
The prohibition of trafficking and sexual exploitation
Active collaboration with local community leaders to support projects or activities in the communities.
Other business units, including Dusit Hospitality Education, Dusit Foods, Property Development, and Hospitality-Related Services, will join the Tree of Life programme soon.
Image: Supplied by Dusit International.