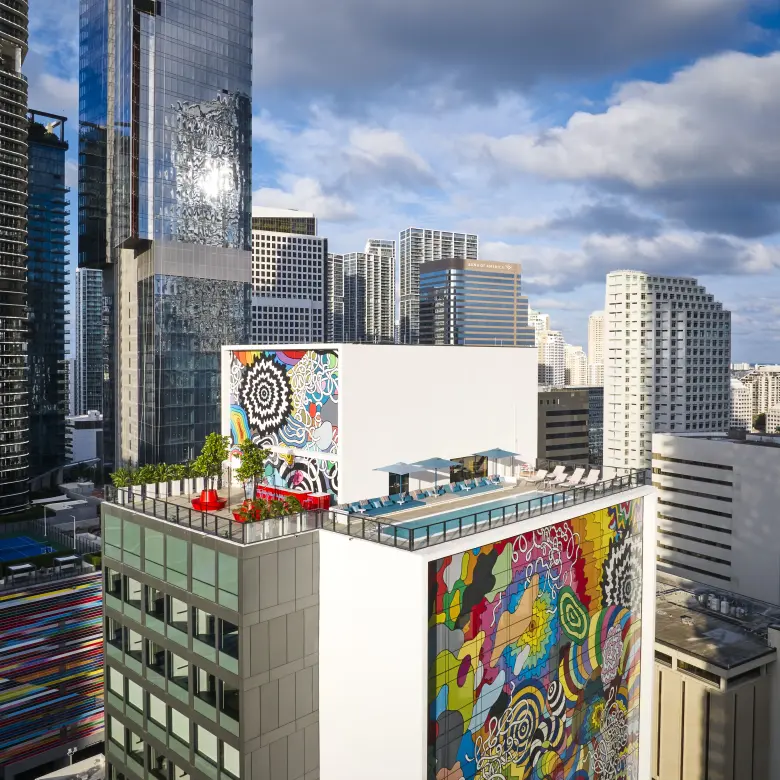 WORLDWIDE: citizenM has secured a dual currency €243.3M and £201.7M Sustainability Linked Loan (SLL).
The loan is with HSBC UK and HSBC Continental Europe, ABN AMRO Bank NV and Aareal Bank.
The completion of the loan means citizenM is one of the first European hospitality businesses to adopt the SLL funding structure.
By refinancing existing debt as a SLL, citizenM aims to reduce its environmental impact and drive continued sustainable growth. Green funding is often seen as a way to attract further investment for future growth as sustainability rises in importance for ESG and corporate sustainability targets.
Klaas van Lookeren Campagne, chief executive officer at citizenM, says: "At citizenM, we take sustainability seriously. We seek to build and operate hotels that minimise our impact on the environment, and it is important to us that our ongoing commitment to sustainability is reflected in every facet of our business. For this reason, we are immensely proud to have secured sustainability-linked funding, particularly given the complexity of the transaction, completed by a diverse lender group across Europe."
The funding was provided equally by ABN AMRO Bank N.V., Aareal Bank and HSBC (UK and Continental Europe), with HSBC UK acting as facility agent and HSBC Continental Europe acting as Sustainability Linked Loan Co-ordinator.
Elizabeth Davies, head of hotels at HSBC UK, says: "We're very proud to have completed this deal with citizenM. With its high profile in the hospitality sector, we expect that citizenM's relatively early adoption of the Sustainability Linked Loan will help to drive further market adoption, as hospitality groups seek to demonstrate a serious commitment to creating positive impacts on the environment."
Fred Bos head commercial clients sector, sustainability and E&E expertise at ABN AMRO, says: "We see climate change as the greatest threat to humanity. We view this cooperation as a positive step towards the prevention of climate change and as an opportunity to grow our loan book in a responsible way. We look forward to scaling what we have achieved with this financing structure more widely across the highly attractive hotel industry."
citizenM launched in 2008 and operates 31 hotels worldwide across 18 cities and 9 countries, with a further 14 in development. In Europe the key target cities for new sites are London, Paris, Milan, Rome, Dublin, Munich, Hamburg, Amsterdam, Stockholm, Copenhagen, Zurich, Geneva, and Barcelona.
The company has a firm commitment to sustainability targets and continued improvement to its existing green building certifications.
citizenM requires all its new-build hotels to achieve at least BREEAM-NC Excellent (ideally – Outstanding) accreditation or LEED-BD+C Gold (ideally – Platinum) rating. For redevelopments or existing buildings, the company aims for BREEAM-NC Very Good and LEED-BD+C Silver (at least).
Other sustainability processes by citizenM include:
– 100 per cent of its hotel electricity in Europe and UK comes from renewable energy sources
– energy, emissions and water consumption has been third party assured – to make sure figures are right
– citizenM stopped putting plastic water bottles in guest rooms and societyM meeting rooms. This has mean using 1.7 million fewer plastic bottles per year. 
– It donates 3 euros to our charity when a guest staying two nights or more skip their room clean
– Only LED lights are used, from the bedrooms to the kitchens
– BMS means once a guest checks out, the lights in their room switch off automatically. Also all areas of the hotels have individual light and temperature controls – so it only heats and cools according to use
– citizenM tracks waste and recycling rates in every hotel
– with its partners, citizenM reduces food waste by 70 per cent with intelligent portioning and packaging
– citizenM signed up to the TooGoodToGo app to sell breakfast buffet leftovers which would otherwise go to waste.
You can read more about what citizenM does with its ESG programme here.