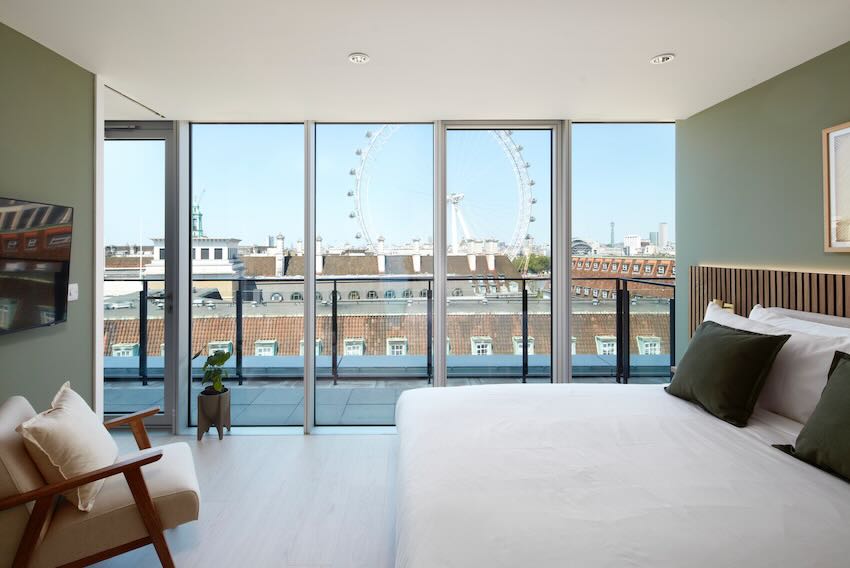 UK: Beyond Apartments has opened its second low impact serviced accommodation in London, in Waterloo.
Beyond Apartments Waterloo offers one and two bed apartments, some with city views and others overlooking the Thames, the London Eye, as well as the Houses of Parliament. 
Beyond prides itself on its low impact operations and sourcing sustainable suppliers. It has a zero single-use plastic and zero waste to landfill promise. Its cleaning products are 100 per cent chemical free (water based Aquama), sheets are cleaned with Ozone, a non-toxic cleaning product, and all paints used for the decor are water-based, free from solvents and the low VOC, which minimises toxins in the air. Heating is controlled via a Nest digital thermostat. 
James Fry founder Beyond Apartments and Aparthotels said: "At every point we have searched for and put our money where our values lie and made our purchasing decisions based upon impact and quality to create something we are delighted to brand as a 'Beyond'".
The Waterloo property is Beyond's second London property after Beyond Fitzrovia, and there will be more from the carbon neutral company, with plans submitted to Harrogate Borough Council last year for a 17 apartment carbon neutral property in Harrogate.
This will not be its first foray in the north of the country after last year it also partnered with investment management and advisory firm Vengrove to open a new-build aparthotel in York.
There are also future plans for one, two and three bed apartments in London's West End.
Image: Matt Clayton, Beyond Apartments, Waterloo.