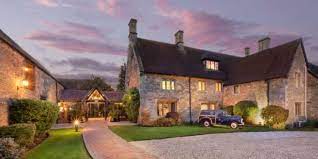 Two Voco hotels in Oxford have been awarded the Green Key accreditation for their environmental and sustainability efforts.
The Voco Oxford Spires and the Voco Oxford Thames were assessed against 130 criteria in 13 categories to achieve the internationally recognised sustainability status.
The assessment looks at the hotels' commitment to limiting the environmental impact of operating, as well as making positive impacts on the local environment.
General manager for both hotels Wendy Procter said: "Sustainability is a crucial part of our business. It is needed from a regulatory perspective, but more so, it's required in today's world. People and businesses want to do better, and we're delighted that our efforts have been officially recognised."
According to the Voco website, for example, in the bedrooms the mattress is made from 100 per cent recycled materials, which is estimated to be the equivalent saving/reduction of 150 plastic bottles recycled per guest room. LED lighting is also used throughout the hotels bedrooms and public areas.
In the bathrooms the toiletry bottles have been changed, from small to large, to reduce plastic waste by 80 per cent. Aerated showers are also installed – which reduces water waste without affecting the power shower performance.  
Voco has also swapped out plastic water bottles with large glass bottles in every room and key areas of the hotel, such as meeting rooms, reducing plastic waste by more than 3000 bottles globally.
At the Voco Oxford Thames the mini plastic jam and honey containers used for breakfast have been traded in for large-format dispensers at breakfast, to reduce waste and plastic. So far this swap has reduced the hotel's use by more than 2,000 little pots of plastic a month.
The Voco Oxford Thames also has three electric car charging points for £10 per 12 hours
Both hotels also have beehives, which produce local honey guests can try. 
The Voco hotel brand was launched by IHG in 2018 and has hotels across the globe, including seven properties in the UK.
To stay in other sustainable IHG properties, guests can use the IHG Green Engage hotel booking system, where they can choose the level of sustainability for their stay.
The online environmental sustainability system means the individual hotels can measure manage their impact on the environment. According to the website "The hotels can choose from more than 200 'Green Solutions' designed to help them reduce their energy, water and waste, and improve their impact on the environment."
The IHG Green Engage system has four levels of certification hotels can achieve. Those awarded Level 3 certification or above can reduce energy use by up to 25 per cent. All IHG hotels have to achieve Level 1.
IHG Green Engage, is used by more than 2,600 IHG-branded hotels worldwide, and is is recognised by the US Green Building Council and Green Key Global (GKG) as providing easy pathways to certification.
The Green Key programme serves to recognise the specific achievements of each hotel, but also to create a network within the industry for the sharing of innovation and best practice.
For more information about the Green Key click here. 
For a glossary of acronyms used in Sustainable Hotel News, including information on Green Key and other sustainable accreditations, click here.
Image: Voco Oxford Thames / IHG