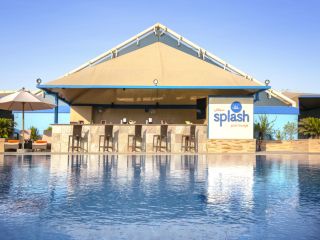 UAE: UAE-based TIME Hotels is pushing its sustainability credentials at the Arabian Travel Market (ATM) this year.
Visitors to ATM will hear how TIME Hotels properties in Egypt and Morocco use hydroelectric energy and hydroponic farming initiatives to run the hotels.
Hydroelectric energy uses moving water to generate electricity, which can then be stored and used for power. TIME hotels will showcase this at ATM as well as powering certain elements of its stand at the event.
TIME Hotels has also installed EV chargers at two of its Dubai properties (including the TIME Grand Plaza pictured above) and will be tracking the amount of gasoline, diesel and LPG consumed at its properties to monitor and reduce its carbon footprint.  It will do this with the help of the Recycle, Reforest, Repeat initiative with the Emirates Environmental Group.
TIME has also achieved its goal of reducing single-use plastic use by 90 per cent last year and is on target to get rid of all single-use plastic at its properties this year.
TIME hotels has also made a huge effort to be sustainable at the Arabian Travel Market with The TIME exhibition stand made from recycled materials and painted with biodegradable paint. It has LED lighting and the stand will be reused at future events ATM events (2024 and 2025). The materials will be stored in a sustainably run warehouse until they are used again. Any materials that are not able to be reused will be taken to licensed recycling centres.
Mohamed Awadalla, CEO of TIME Hotels, said: "In the past decade, TIME Hotels has successfully implemented a number of market-leading environmental initiatives. We are delighted that sustainability takes the spotlight at ATM 2023 and look forward to sharing the latest news on our environmental practices. We have thought about every detail for our presence at ATM to ensure the sustainable goals and initiatives of TIME Hotels are met onsite."