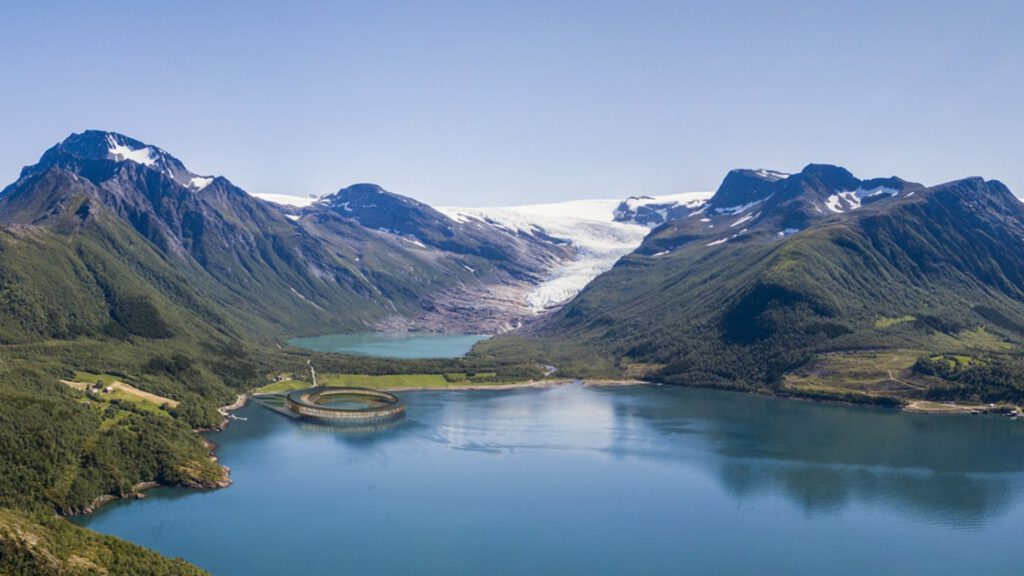 NORWAY: Luxury hotel group Six Senses Hotels & Resorts is launching a "net-zero travel" hotel in Norway.
The 94-room hotel will be called Six Senses Svart and is the brand's first foray into Scandinavia.
The circular-designed building is the first in the northern hemisphere to be designed and built with an energy efficient standard, which means it will collect enough energy from its solar panels to operate the hotel, its activities and the shuttle boat, which transports guests across the fjord.
It also means that within five years the hotel will produce enough energy of its own to cover the energy output of constructing the property. Often when hotels say they are carbon neutral, they are not counting the carbon emissions caused during construction, and are only referring to the operations side. This hotel can deliver 89 per cent of the 45 per cent decrease in emissions to reach the limited 1.5°C in the Paris Agreement and in its effort to become the first fully carbon-neutral and emission-free resort it will also, in around five years, generate more energy (via its solar panels and geothermal wells) than it took to build, and will take to operate.
The resort and its services, including the greenhouse farm, boat shuttles, and experiences, will be completely self-sufficient, operating off grid, in electricity, water, and waste management. To achieve this the hotel will operate a circular economy managing its own waste and water management, recycling and renewable infrastructure. 
Ivaylo Lefterov, Svart development director said: "Building a unique environment through cutting-edge design and superior craftsmanship comes with clear obligations. Creating a sustainable destination through an optimised resort operation requires us to collaborate with the right partner. Six Senses shares the same ethos and ambition, to redefine bespoke travel through technological innovation, carbon-neutral approach, ground-breaking design, and an exceptional guest journey."
Inside, the hotel the restaurants will work with sustainable fishing and farming groups, have a zero-waste dining option and provide filtered water to guests through its own water cycle.
There will also be a Svart Design Lab, which offers education for guests to understand how new technologies can bring the hotel sector closer to carbon neutrality.
Jan-Gunnar Mathisen, CEO of the project's owner and developer said: "To enhance the vision of Svart, we have established a Net Zero Lab, a vehicle for developing and taking to market the technology created by us in a joint effort with Six Senses to reach the common goal for net-zero travel. This means the guest journey will have zero environmental impact from start to end. The mission is to achieve common ground for all stakeholders pushing the technology to the next level to benefit the resort and the industry at large."
As a centre for engagement and innovation, the Earth Lab will serve as the sustainability outreach space, showcasing "lifecycle living" initiatives on and off the property.
Six Senses Svart is due for completion in 2024.
Radisson Hotels and Resorts recently announced a sustainable certified hotel in Norway's capital Oslo.
Image from Six Senses Hotels Resorts and Spas.