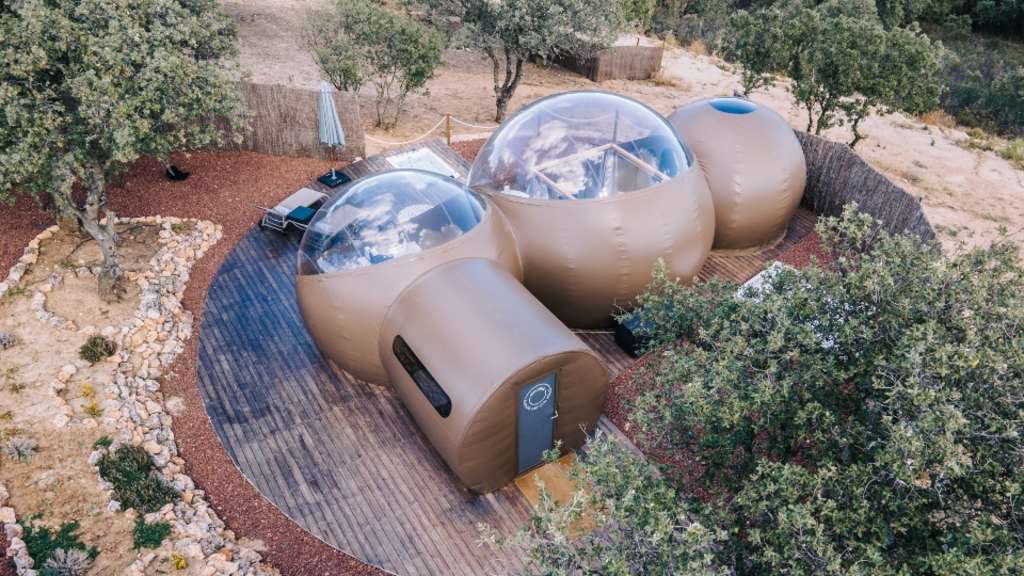 SPAIN: Quartz Inn Hotels has announced the addition of the bubble hotel Miluna Open Nature Rooms to its Spanish portfolio.
The hotel will be one of nine independent and sustainable hotels in Spain for Quartz Inn Hotels.
The rooms of the hotel are the unique bubble type structures (see image) so guests can stargaze and feel connected to the immediate environment. The ethos of the hotel is to be connected to nature, and take action for the environment.
Sustainable measures at Miluna – which tick some of the UN's sustainable boxes – include projects for reforestation and conservation of natural spaces, support for local producers and artisans, support for social projects and NGOs, and reduction of the carbon footprint.
Miluna recycles, "shops local", offering local artisans and producers the chance to supply the hotel (as well as having a vegetable garden of its own). The hotel also offsets all the emissions produced at the complex using a company called REFLORA which studies and analyses the emissions annually and then offsets them in sustainable rural developments and projects such as tree planting. Miliuna has planted more than 500 trees on site but also has projects in other countries like Peru.
Quartz Inn Hotels co-founder Lidiia Tkachenko said: "It is a pleasure to welcome Miluna to our community of sustainable and independent hotels. Their constant commitment to the environment is admirable."
Miluna's co-founder Alejandro Bosch says: "At Miluna we are committed to people and the planet. Our hotel is focused on health, sustainability, recycling, social action and care for the environment."
Quartz Inn Hotels is the first European hotel collection formed by independent and sustainable hotels and properties. The London based startup was founded in 2021 by Ignacio Merino, Lidiia Tkachenko and Alexander Zawadzki. Quartz Inn Hotels also runs the European Sustainable Tourism Awards, which are now open for entry.
Image: Miluna