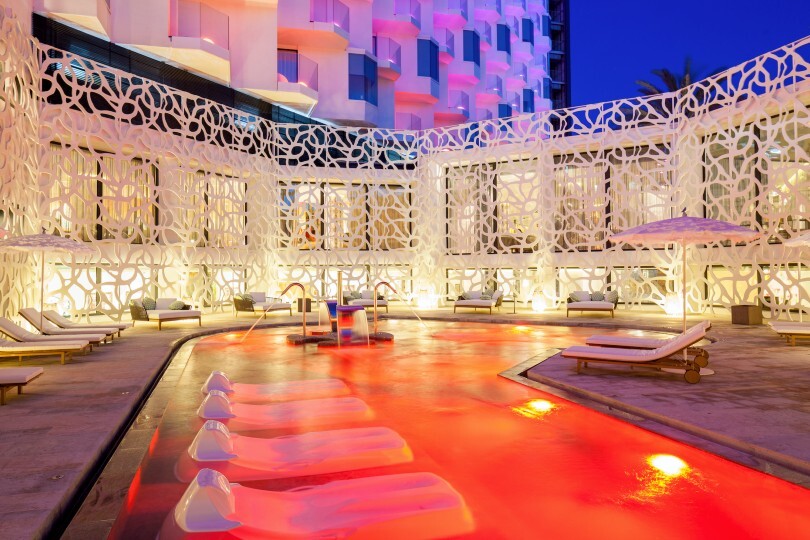 SPAIN: Spanish group The Palladium Hotel Group is hoping to showcase its sustainability efforts as it focuses on achieving its renewable energy goals this year.
Currently 100 per cent all of the energy consumed in the group's Spanish properties comes from renewable sources – either from guaranteed origin or the hotels' photovoltaic (solar) panels. 
The group has installed 1,327 solar panels in Ushuaïa Ibiza Beach Hotel, Hard Rock Hotel Ibiza (pictured above from Palladium Hotel Group), Grand Palladium Palace Ibiza Resort & Spa and Grand Palladium White Island Resort & Spa. 
The solar panels create power up to 600 kWp and can produce 746,000 kW, avoiding 186,000 kg of CO2 emissions per year.
In the future, in order to achieve its sustainability goals the group plans to make use of other sustainable sources, including natural gas, thermal recovery systems and geothermal energy. Energy use for the rest of the portfolio in the rest of Spain, Italy, Mexico, the Dominican Republic, Jamaica, and Brazil hits 20 per cent for a guarantee of renewable origin, but Palladium Palace Hotel Group wants that figure to reach 50 per cent this year.
A recent report by Booking.com cited how travellers are looking for more sustainable accommodation options when they travel including more than 50 per cent of travellers from the UK.
It will do this by trying other methods of sustainable energy and continue to be proactive in other sustainability goals by focusing on waste management, the reduction of single-use plastics, and support for local products.
The Spanish hotel chain operates 41 hotels under nine different brands: TRS Hotels, Grand Palladium Hotels & Resorts, Palladium Hotels, Palladium Boutique Hotels, Fiesta Hotels & Resorts, Ushuaïa Unexpected Hotels, Only You Hotels, Bless Collection Hotels and the Hard Rock Hotels Brand under licence with three hotels in Ibiza Tenerife and Marbella.
Palladium Hotel Group has achieved various different certifications of sustainability from different standardisation companies across the world and its portfolio, including those by ReThink Hotel Association, EarthCheck Silver and Platinum and Blue Flag awards.