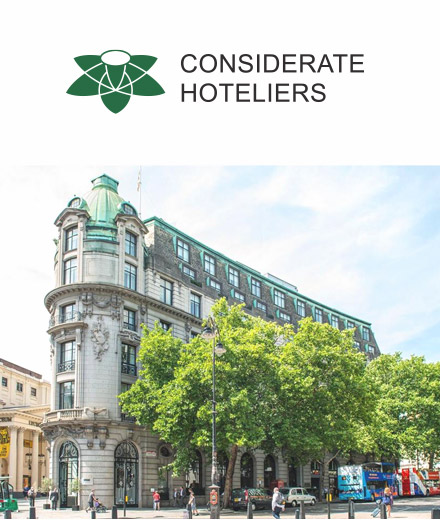 UK: The Sustainable Hospitality Alliance and the Considerate Group have teamed up to help advance net positive hospitality.
The Sustainable Hospitality Alliance (the Alliance), the leading network for responsible hospitality, and sustainable advisory firm, Considerate Group, have announced an agreement to support the hospitality industry to become measurably more sustainable. 
Alliance CEO Glenn Mandziuk and Considerate Group Managing Partner & CSO Xenia zu Hohenlohe met with His Majesty King Charles III at a reception at Buckingham Palace, which was also attended by UK Prime Minister Rishi Sunak. Global CEOs and politicians also attended.
The agreement will represent the hospitality industry as part of a co-ordinated private sector effort to accelerate the transition to a more sustainable future.
Both organisations have a strong focus on impact monitoring and reporting, and aim to innovate measurement tools to better support and deliver services to the hospitality industry.
The Alliance recently updated its global methodology and tool for carbon measurement, the Hotel Carbon Measurement Initiative (HCMI), as well as offering water and waste measurement resources. 
HCMI is now being used by over 30,000 hotels worldwide including those of Hyatt, Marriott International and Radisson Hotel Group, as well as being recognised by business travel platforms, Cornell Hotel Sustainability Benchmarking Index (CHSB), and business associations.
Considerate Group's Con-Serve data-monitoring platform enables hospitality clients to measure resource consumption and broader ESG metrics including electricity, heat, water, waste, food miles, business travel and volunteer hours and aligns to the HCMI. The Considerate Group's tailor-made, hands-on consultancy services also helps hospitality businesses to set and achieve their sustainability goals. 
Glenn Mandziuk, CEO, Sustainable Hospitality Alliance, said: "We have a history of collaboration with the Considerate Group and I am hugely positive about the momentous projects that we are leading together. This partnership will support the advancement of Net Positive Hospitality through research, development and promotion, and together we'll drive industry action on biodiversity, climate change and other leading issues."
Xenia zu Hohenlohe, Considerate group managing partner & CSO, said: "We are delighted and honoured to be partnering with the Sustainable Hospitality Alliance, as such a highly recognised organisation with a truly international reach. Their solid frameworks set guiding principles which the entire industry can follow. This collaboration will help us drive the much-needed change in our sector and achieve goals the entire planet needs, as well as focusing on creating a positive impact for hospitality businesses."