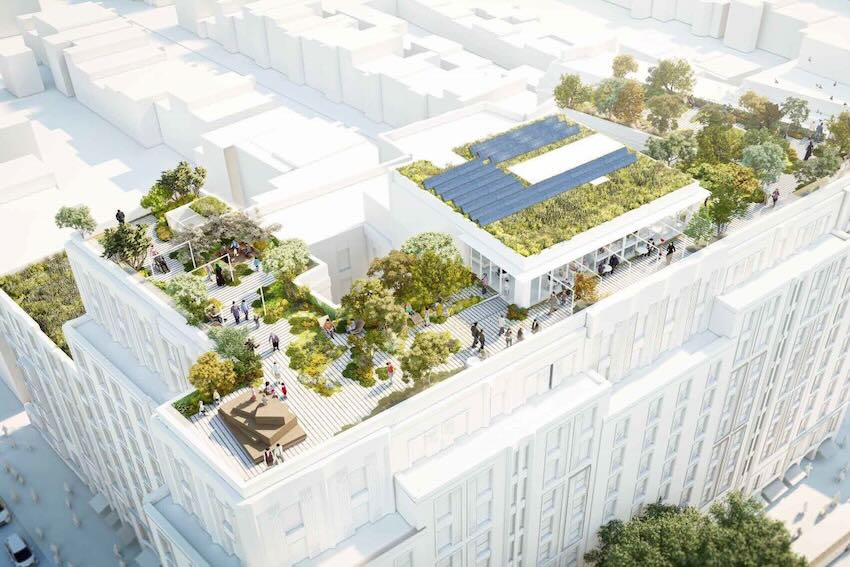 UK: The Royal Borough of Kensington and Chelsea's planning committee has granted planning permission for the extension and renovation of the existing Hilton London Olympia.
Announcing the news on LinkedIn C1 Capital and its partners Frogmore said it was "delighted to announce they gained planning permission last night to build a 905 bedroom hotel at 380 Kensington High Street, London."
The statement added: "Now we'll be seeking an equity partner to help complete the hotel."
The new development will be the largest hotel to be built in London in a decade and it will retain part of the existing hotel's structure, as well as a 0.86-acre site at the Olympia Exhibition Centre.
As well as adding more than 500 new bedrooms, the hotel will offer a roof garden and rooftop bar (CGI above).
Designed by Elliott Wood, the hotel will be built with sustainability principles at its core, including carbon retention and energy performance as a key focus, and trees and provisions made for pollinators. 
Studio Moren is the scheme architect and DP9 is planning advisor to partnership with sustainability experts Frogmore.
Jo Allen, chief executive of Frogmore said: "We are so excited by the prospect of working with the team at Hilton to provide a larger, sustainable hotel fit for the future and to be enjoyed by visitors to London and, particularly, to Kensington High Street and Olympia. Thank you to everyone who worked so hard on arriving at an appropriate design."
Gerard Nolan, chairman at C1 Capital said: "With the Olympia London Conference Centre, central London's latest and largest entertainment venue, reopening in 2025 we envisage enormous customer demand for the new hotel. 
"The existing London Hilton Olympia has had average occupancy levels in excess of 80 per cent in 2023. With an additional 12 million visitors to Olympia, we're confident the new hotel will be extremely successful when it opens in 2027".
Frogmore acquired the Hilton London Olympia Hotel, in partnership with C1 Capital, in April 2022 from HPL just as the UK emerged from the Covid-19 Pandemic.
Studio Moren is an award-winning practice of 70 architecture and interior design specialists, working across the hospitality spectrum. At the beginning of this year it partnered with the Energy and Environment Alliance. We had a great Q&A with Bryan Oknyansky, head of sustainability at Studio Moren you can read that below.
Q&A with Studio Moren's head of sustainability, Bryan Oknyansky 
Image: C1 Capital