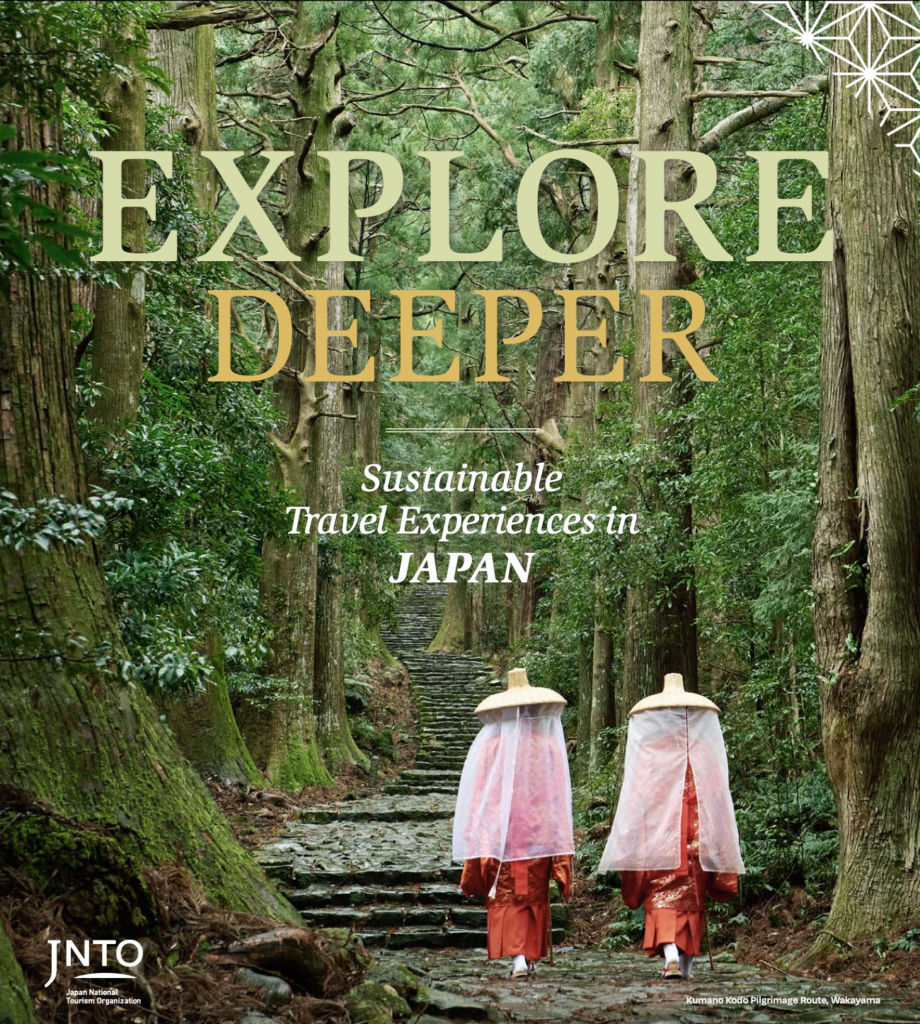 JAPAN: The Japan National Tourism Organisation (JNTO) has produced a new brochure featuring sustainable destinations, experiences and accommodation across the country.
The brochure, called "Explore Deeper: Sustainable Travel Experiences in Japan, can be downloaded or viewed on the website under the title Brochure.
Michiaki Yamada, JNTO's executive director in New York said: "Japan's travel industry is taking initiative to achieve United Nations' Sustainable Development Goals (SDGs). At JNTO, our sustainability pledge focuses on three major pillars: the Environment, our Culture, and our Economy. With these three pillars, we hope not only to enrich and protect them, but also let them enhance travellers' experiences in the country." 
Japan and JNTO's sustainability efforts also aim to protect local and indigenous cultures and support small businesses since the economic downturn.
The new guide covers a range of sustainable travel options as well as sustainable hotels. All of them are eye-catching and offer varying degrees of sustainable practices.
The Treeful Treehouse Resort offers eco-friendly accommodation with tree houses powered by natural energy production. 
Bettei Senjuan has a Green Key certification and is located at the foothills of Mount Tanigawa. A member of Relais & Châteaux luxury hotel group, the hotel has private open-air baths for each room, fed by flowing natural hot spring water. 
Another hotel option is Kuki, which is in the southwest of Hokkaido. The hotel is trying to reduce its carbon emissions and waste. Water is heated through a natural hot spring to keep rooms warm and the food is from local producers. Kitchen waste is turned into compost for farms.
On the northern island of Hokkaido, Niseko Town was voted one of the world's Top 100 Green Destinations in 2020 and 2021. This is where you will find Zaborin, which incorporates modern, eco-friendly design and building techniques. Its walls are made out of recycled offcuts and an on-site hot spring provides carbon-neutral, underfloor heating in winter, and the cold spring water cools the building during the summer. 
Another hotel, a more urban option, is in Kyoto – the Good Nature Hotel, which is certified sustainable and follows sustainable practices. The hotel was awarded a Gold WELL Certification, which shows that the buildings were constructed to be environmentally friendly and beneficial to human health and wellness. It was the first time a hotel had received this certification.
Visit Kamikatsu Town, Japan's leading area for zero-waste and find HOTEL WHY, which was awarded sixth place in Lonely Planet's Best in Travel 2022 awards. From the moment you check-in you learn about zero-waste and even join in with a recycling scheme. Local residents bring their waste to the Kamikatsu Zero Waste Centre, where waste is separated into 45 different categories and 80 per cent of materials used are recycled. This is where the hotel is found and inside it offers modern rooms with local recycled materials. 
To read the full brochure with all the JNTO's sustainable ideas click here
Image from the JNTO brochure on the website.