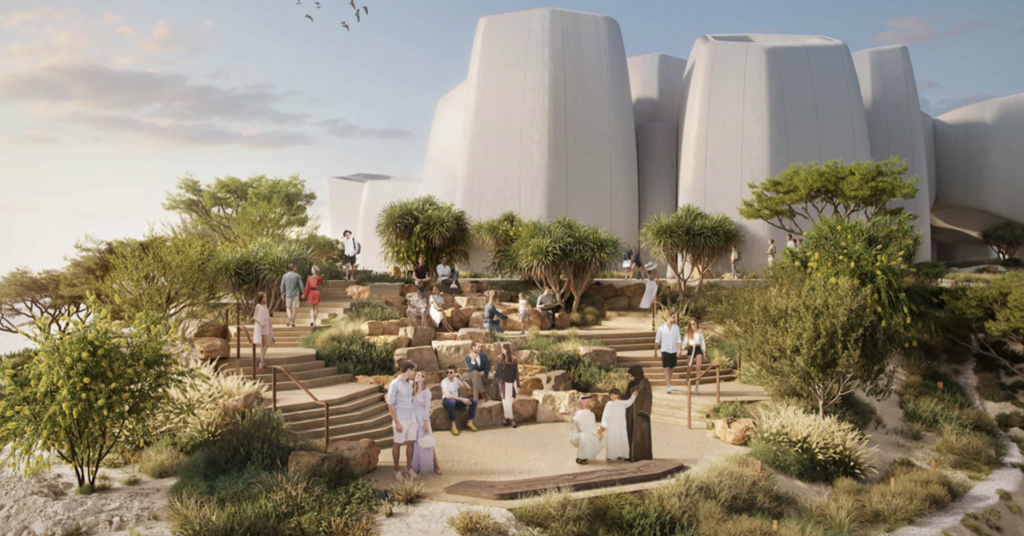 SAUDI ARABIA: The Red Sea Development Company has unveiled plans for a sustainable marine life institute, designed by Foster + Partners, which will also feature hotels.
The institute will be a scientific research centre with the aim to attract and educate tourists who will stay in the resorts on the site. The marine life institute is part of phase one of AMAALA Triple Bay. The facility will also be home to one of the world's largest man-made reefs, measuring 40 metres long and 10 metres deep and providing a "Grand Reveal" moment for visitors on arrival. Excavation work on the reef has already begun.
AMAALA is calling itself the "first global integrated family wellness destination". There will be eight resorts at the institute with more than 1,200 keys. However, this is only for phase one, which is to be complete in 2024. The full plans for the accommodation are for 25 hotels with around 900 luxury villas and 3,000 keys.
John Pagano, group CEO of The Red Sea Development Company said: "We wanted to design a first-of-its-kind facility that extends far beyond any existing marine life attraction. With 10 zones that provide everything from augmented reality experiences to night diving, and spaces for the scientific community to effectively progress their environmental projects, the Marine Life Institute is undeniably unique. Not only will it drive global green and blue innovations, it will also help put Saudi Arabia on the map for travellers seeking trips that enrich their lives."
The institute has been designed to look like the distinctive tube coral reef, using glass and concrete moulded into pipe shapes. It will have 10 zones offering visitors different experiences from augmented reality to snorkelling with rare species and walking underwater. They will also be able to participate in lab tours and dive the depths of the Red Sea in a submarine.
As part of its sustainable design the site will feature 40 per cent native plants, and a system to collect water, prevent erosion and pollution, while reducing mains water use. The lighting throughout the development has also been designed to prevent light pollution to protect the nocturnal environment. 
Gerard Evenden, head of studio at Foster + Partners, said: "The Marine Life Institute will take guests on a vibrant, educational, and awe-inspiring journey that unveils the natural wonders of the Red Sea and blurs the boundaries between the institute and the ocean. By recreating natural marine habitats, offering unforgettable marine interactions, and sharing glimpses into conservation projects, it will provide guests with an immersive marine experience unlike any other."
John Pagano, Group CEO of The Red Sea Development Company added: "The overlay of sustainable design, build and operations, guest experience and meaningful scientific work underpins our commitment to drive enhancement of the environment and tourism growth. It's a perfect model of sustainability, balancing people, planet and commercial success".
Image from Amaala Triple Bay