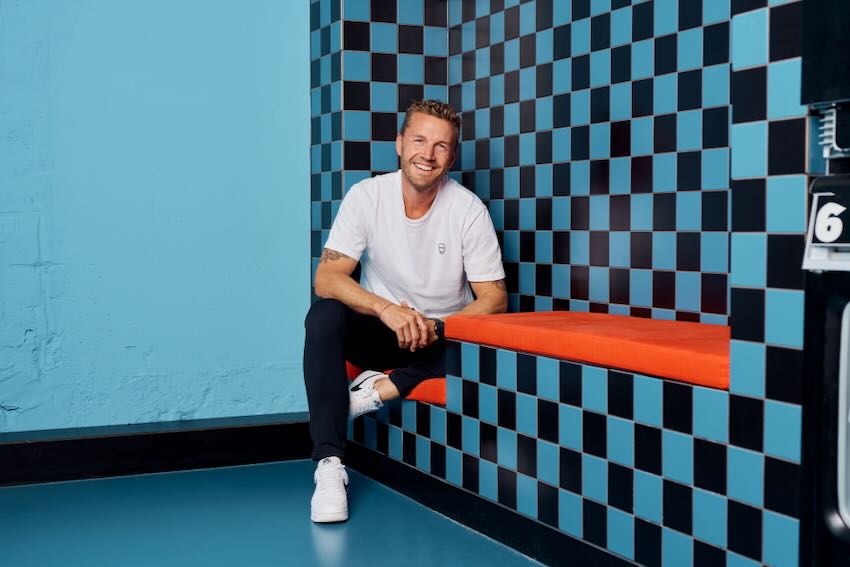 The Social Hub is a diverse community where people come to learn, stay, work, and play – previously known as The Student Hotel, which mixed students with regular hotel guests, the successful concept evolved into The Social Hub, which now has 16 community-focussed hotels (and seven in development) in eight countries across Europe. From modern hotel rooms, to coworking and event spaces, restaurants and bars, The Social Hub aims to connect local people, travellers, students and professionals to share ideas and experiences. I caught up with Charlie MacGregor, CEO The Social Hub, to talk about society, community, sustainability and how the hotel sector has to move with the times.
How did the original idea of The Student Hotel come about?
CM: It was born out of my frustration of the UK's student housing industry where they treated students like cattle, I guess. And I really felt that this demographic are our future leaders, movers and shakers – and they are going to University – so why do we expect them to move house four or five times times, or live with an engine in the sink? Let's treat them with respect and give them something they deserve better. I think the role The Student Hotel played in that industry has really helped disrupt that, where common space and places where people can meet and greet each other has really worked. We rebranded to The Social Hub and it was a brand evolution, so our values have stayed the same, our business model stayed the same, our assets have stayed the same and the team, but we believed that bringing people together will create a better society. And I am aware that sounds dreamy…
It seems as if it's of the time now as a lot of hotels are moving more towards community spaces, coliving and hotels as local hubs…
CM: Yes and the reason I feel comfortable with this, and why I think we can play a big role, is by treating people with respect and opening the door and trusting them. There was a lot of resistance to people having hotel guests and students together and people were like "that can't happen!" And it had never happened before – when you think of the hotel industry it's quite siloed – you go to a hotel, you go to a spa, you go to a conference hotel and people don't really talk to each other. 
When we broke down those barriers introducing different demographics, people really started connecting and living and working and achieving their goals together in a much more genuine way, and it felt like how society is. So with The Social Hub – when you do bring people together from different demographics connected by a similar mindset, you really do make a connection and create a society.
You've also done some work with refugees, can you explain more?
CM: I started an organisation called Movement on the Ground eight years ago to respond to 10,000 people arriving on Lesbos every day. I started as a volunteer but it then became an NGO with the emergency relief we provided at the beginning, when we built a pop up refugee camp and offered dry clothes, food and shelter. It took a year before the United Nations High Commission Refugees (UNHCR) arrived and we saw the playbook they were using has not changed since the Second World War. What had changed was the digital world, and refugees are not going to stay still with nothing to do if they can see somewhere better to go. The average length of time in a refugee camp is 17 years so we started building camps and getting into camp management.
We call that model the Camp to Campus and that means we trusted and leveraged the talent in the camp. Giving people in a refugee camp trust and a sense of purpose during the day really helps. When you ask them to start getting involved in building and managing their facilities, it's their community they are building, and the behaviour and the violence, all those problems disappear because you are treating a human being like a human being. When you give people trust beautiful things happen and people are 99.9 per cent of the time amazing and good and happy and friendly. 
I can see you have the social side well covered. What about the environmental side?
CM: The E in ESG is really important and not just from a moral aspect. Investors have been driving the push towards the E and they are the people who buy the offices from the private equity guys and so we have been following the BREEAM, the GRESB and the CRREM and it's our intention to upgrade our whole portfolio. I'm pleased we can invest in our assets and it's in our DNA is to be a bit disruptive and challenge the system. The PowerNEST in Eindhoven is a good example of that. [PowerNEST is a full roof-integrated solar and wind energy system]. 
We have a lot of roof space in our portfolio but if you look out of the window you see lot of flat roofs and we believe this PowerNEST initiative, where you are adding an extra floor for wind and solar, will generate 27 per cent of our own energy for one building and if we deployed that across our Dutch portfolio then we would generate 57 per cent of our own energy. 
In my view this is the only way that property owners are going to be able to generate their own energy. We are owner operators of our assets so we can lead the way to show this is a good use of your empty space.
What about food waste?
CM: We have trialled Orbisk in Amsterdam and have a pilot in five hotels across three countries; Germany, Spain and The Netherlands. The technology identifies waste streams and on average they are able to help their clients with between 30-50 per cent food waste production. We feel the hospitality industry has a role to play in reducing that specific waste stream and our guests value that.
And the Billie Cup [a sustainable reusable coffee cup made out of bamboo fibre]?
CM: Yes, we are trying to stop single-use coffee cups so you get the Billie Cup and you bring it back and pay less for your coffee the next time.
It sounds like you are the perfect contender to go for B Corp status?
CM: We are going for it! It is a big challenge and this comes back to The Social Hub, we want to be leading by example and we want to be seen to be pushing the boundaries of the company. We own all our own properties and our ambition is indeed to apply for B Corp. We've been working with them for a long time and we are aiming to submit our application in December this year, and if everything goes well and we get enough points then by next summer we will be approved. 
How difficult is that process?
CM: We organise around 200 community events a month and it's trying to collate all that data to emphasise that, so we have had to build all new infrastructures and platforms to collect this data, but what we love about B Corp is that it's the only label really that's been able to penetrate consumers. It's a very strong community as well and it feels a natural place to be and it's the first label to look at the E, S and the G in combination; a lot of others are focused on the E mainly. So yes we are really excited to be doing it and we are keen to do it in an open and transparent way, because if we don't get it then we need to learn the lessons why we don't get it and apply again.
What do you think about certifications? 
CM: We have five different certificates at the moment and it's difficult because we have two investors and both have signed off on their own  label process. And then we come in with Science Based Targets and B Corp and at the same time if you look at the Billie Cup or the PowerNEST or the move to green energy and BREEAM it is all moving into Social and Governance and they are all going to be ending up in the same place. I embrace it to be honest and I'm sure there will be some consolidation. I think it's early days on how these labels are going to evolve and I think B corp has a good positive role in the whole industry. 
What future initiatives do you have planned?
CM: We recently launched our first pilot project called The Better Society Masterclass during Gay Pride where we invited 30 friends, or friends of friends of The Social Hub, who came from the different communities in the LGBTQIA+ community. We invited speakers to come in and we created a task – how can we create a better society within your own community?
That was very successful so our intention is to have maybe four different topics – refugees, environment and another maybe social entrepreneurs, and then we host these masterclasses on how these communities build a better society within their own community, and how they connect to the broader society as well? That's something we see as one of the cornerstones of our brand. We are really trying to encourage people to come together and in a fun way.
Image supplied