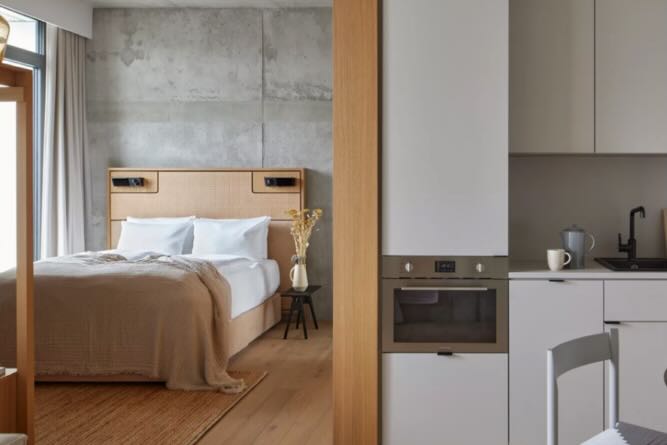 GERMANY: edyn's aparthotel brand, Locke, has opened its first property in Berlin as it ramps up its ESG data collection.
The Locke at East Side Gallery will be the brand's third opening in Germany and offers views across the city's skyline and the River Spree.
The new opening has 176 studio apartments equipped with kitchenettes and living areas, meeting and event space, a gym, a co-working area for guests and locals, as well as a coffee shop and bar and restaurant. 
edyn has already committed to its sustainability practices and has ramped up its data collection so it can set targets and track progress in reducing resource-consumption and carbon emissions. More detailed data collection and reporting will be imperative for hotels with the new CSRD and ESG reporting rules coming next year.
Companies will be requited to have a minimum of a year reporting to act as a benchmark and although an EU directive, hotels will fall into supplier value chains and will be asked to provide detailed information as part of that chain.
To improve data collection edyn has switched its data monitoring platform to Con-ServeTM, which allows it to connect to smart metre data and monitor energy usage at up to half-hourly intervals with just a one-day time-lag.
The 2022 impact report notes: "We also know our credibility relies on high standards of governance and transparency. That's why we're taking a structured approach to sustainability, so we can objectively and comprehensively monitor and communicate our progress."
The impact report also explains how edyn has created a steering committee to oversee sustainability work, including all members of management and chaired by CEO Stephen McCall.
edyn says by the end of this year it will reduce direct energy consumption and carbon emissions by 9 per cent compared with December 2022, obtain emissions data from 50 key suppliers, get all colleagues involved in the social side of ESG, remove single-use plastic, reduce emissions from business travel by 38 per cent and increase B Corps and ethnic suppliers it works with as well as putting a supplier ESG process in place for existing and future suppliers.
It also aims to formally approve the pursuit of sustainability certifications and achieve BREEAM 'Very Good' or better on  two developments due to complete in 2023
Next year it will set carbon emissions reduction targets for all suppliers for scope 3 emissions noting in the report:
By 2023, we'll start collecting data on the carbon emissions produced throughout the rest of our value chain

By 2024, we'll set targets for reducing our carbon emissions throughout our value chain
Locke's Turing Locke property in the UK has been rated 'excellent' by BREEAM and has solar panels to generate power onsite, a heat-recovery air-conditioning system, and outdoor spaces to encourage wildlife, as well as space for the local community.
You can read the 2022 impact report and sustainability commitment here