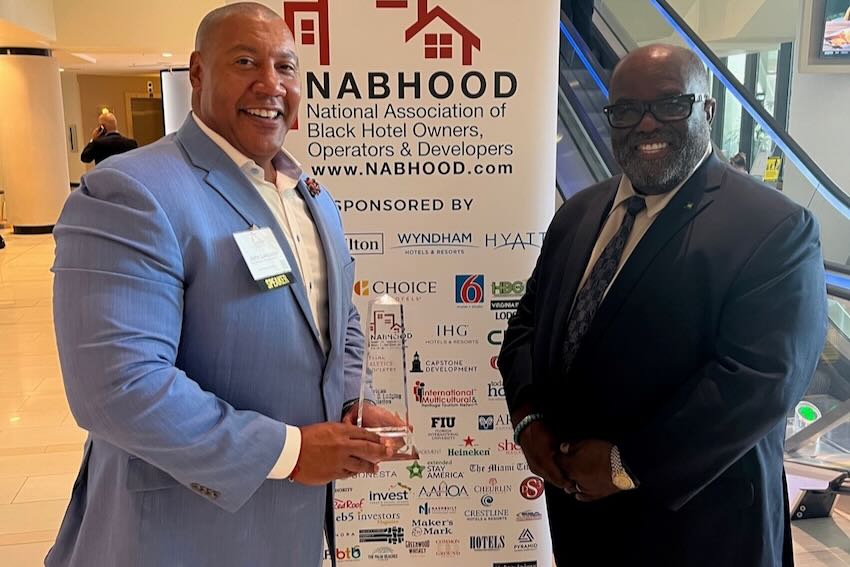 US: Choice Hotels' vice president for emerging markets, franchise development and owner relationships, John Lancaster, has been recognised by the National Association of Black Hotel Owners, Operators & Developers (NABHOOD).
Lancaster received the Chairman's Award in recognition of his efforts to promote diversity in hotel ownership, operations and development, from NABHOOD, which advocates on behalf of African American hoteliers.
The award was presented by NABHOOD president and CEO Andy Ingraham at the group's Annual International African American Hotel Ownership and Investment Summit.  
Choice's Lancaster said: "I'm truly honoured and humbled to receive this award… I wake up every morning with a commitment to help create generational wealth for underrepresented minorities in our industry. It's more than a job to me – it's a purpose. And I'm proud of Choice's leadership and passion for fueling diversity and equitable opportunity."
The hotel group has a dedicated team focused on extending the opportunity of hotel ownership to underrepresented populations.
Choice Hotel's Emerging Markets Programme was developed nearly 20 years ago to build relationships within the African American, Hispanic, Native American and veteran communities and provide incentives for new franchises, such as financial awards and educational opportunities. 
In 2020, the hotel group formed the Choice Hotel Owners African American Alliance (CHOAAA), offering African American franchisees a forum to engage with company leadership.
In 2021, Choice launched the HERtels by Choice, a programme to provide training, education, mentorship and financial assistance to women entrepreneurs and help them thrive as Choice franchisees. 
Nearly 70 per cent of Choice's franchised hotels in the US are owned by Asian Americans, with many first-, second-, and third-generation owners from the same families.
Choice Hotels joined the Sustainable Hospitality Alliance in January this year, becoming one of the Alliance's largest members, adding a further 7,500 hotels to its membership.
Image: Choice's John Lancaster (l) receiving the Chairman's Award from NABHOOD president and CEO Andy Ingraham (r).