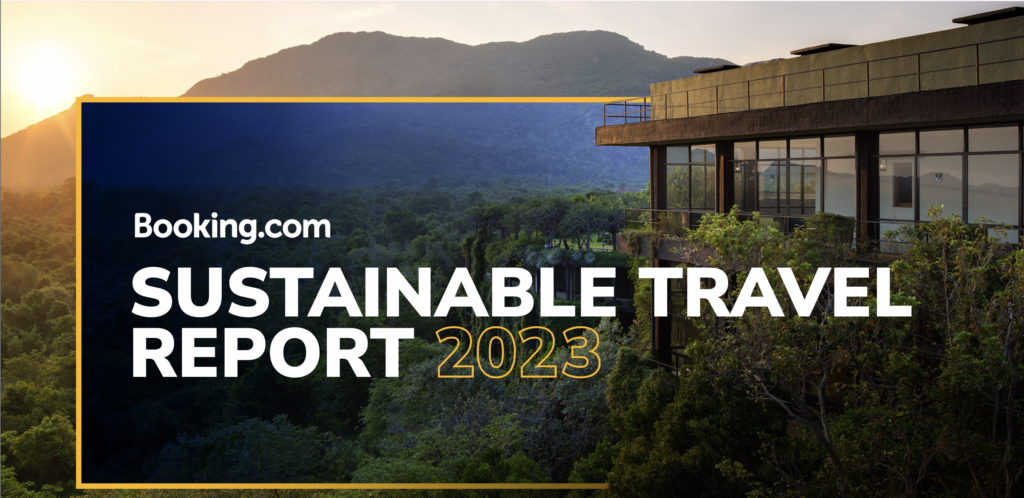 Booking.com's eighth annual Sustainable Travel Report has been released with insight from more than 33,000 travellers across 35 countries and territories.
Although the survey, which was conducted in February this year, found that almost half of travellers believed sustainable travel was more expensive, it also found that travellers are looking for more ethical experiences as a whole, and are thinking about what "value" actually means to them when they book a trip.
Despite this, the drive for sustainable travel and accommodation is still there –and growing – with 74 per cent of people wanting companies to offer more sustainable options – this was 66 per cent in 2022 as we reported last year.
Glenn Fogel, CEO Booking.com said in the report: "Over the eight years that Booking.com has conducted this research, the growing urgency that people feel to act now and make more sustainable travel choices continues to be encouraging. The report promisingly points to the traveller mindset evolving with some noticeable shifts in the more sustainable behaviours that travellers say they have put into practice over the past year."
In fact, the 15 page report shows that 80 per cent of travellers say travelling more sustainably is important to them and 74 per cent of respondents think people need to act now to make the world more sustainable for future generations (66 per cent last year).
Respondents were also influenced by world news and events with more than half (53 per cent) of those asked saying they have been more conscious of the environment and this has influenced their choice of sustainable travel, while 49 per cent think the environment will get worse in the next six months and 64 per cent of people think the cost of living crisis will also get worse…
Cost has had a big impact on how people think about sustainable travel too. 49 per cent of people think the sustainable options on offer are too expensive (this is an increase of 11 per cent on last year). However, for those suppliers who can offer a budget option for sustainable travellers the market is there with 49 per cent of travellers interested in finding a budget way to travel sustainably.
And it seems we want to be rewarded for staying green with 49 per cent of respondents wanting discounts or incentives for picking the most eco option. (Last year that figure was 37 per cent.)
Accreditation has come under fire. According to the Booking.com Sustainable Travel Report 2023, when it comes to sustainable hotels travellers want to see some green credentials. According to the research, 65 per cent would feel better about staying in a particular accommodation if they knew it had a sustainable certification or label, 59 per cent want to filter their options for those with a sustainable certification next time they book, and 69 per cent are interested to learn more about why specific options are recognised as more sustainable. (The onus is being pushed onto the hotels to be clear about why it is a sustainable hotel).
There does seem to be a lack of trust in the current system of accreditation driven partly, by the lack of alignment in the sector, with 39 per cent of respondents saying they don't trust that the sustainable travel options labelled are truly more sustainable…
Fogel also said: "At Booking.com, our aim is to find scalable ways to surface experiences across the entire trip that truly enrich the connection between travellers and destinations, from impactful activities to supporting local communities. In order to bring the ethos of traveling more sustainably into the mainstream, the onus is on us in the travel industry to provide more information to travellers in a credible and trusted way. With continued industry collaboration and the dedication of our partners, we are on course for more sustainable travel to become the norm, and not the exception."
Booking.com has adapted to the responsible traveller and the change from "tourist to changemaker," with travellers choosing to shop and eat local during their stays, source public transport, and 69 per cent of them wanting the money they spend to go back to that community.
Booking.com offers its Travel Sustainable programme, which recognises the sustainability efforts of more than 500,000 accommodations worldwide (these are labelled with a certified Travel Sustainable badge)
Its has rental car search filters to help find fully electric and hybrid cars across 111 countries
Search for 100 per cent Electric and results for 95 cities worldwide should come up for greener taxi options
There are 47 cities worldwide where public transport ticketing options are now available after making an accommodation booking
In 2022 Booking.com set a target to be net-zero by 2040. This is part of its Climate Action Plan, aligning its emission reduction roadmap to the Science Based Targets Initiative (SBTI). Booking.com aims to achieve a 95 per cent reduction in scope 1 and 2 emissions and a 50 per cent reduction in scope 3 emissions by 2030. It also aims to be net-zero by 2040.
You can read Booking.com's Sustainable Travel Report 2023 here.