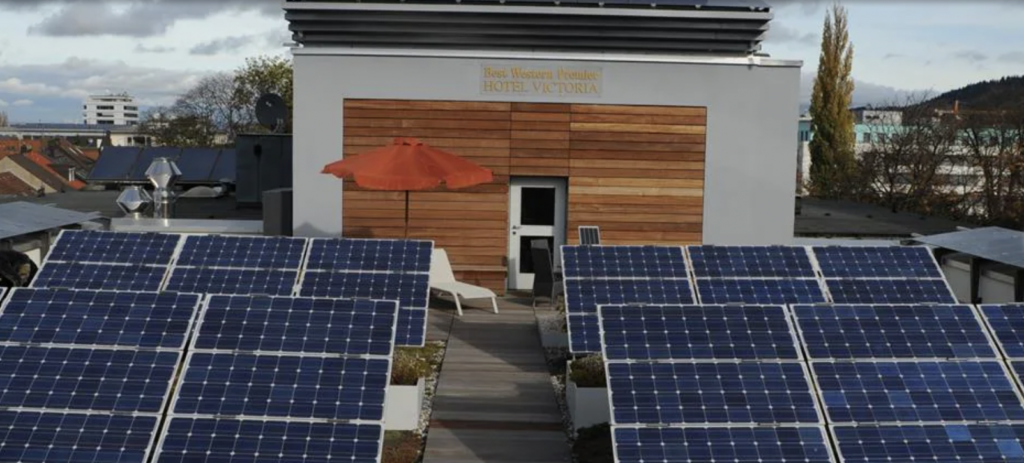 USA: Best Western Hotel Group (BWH) is showing its commitment to environmental and social responsibility across its global portfolio with a new sustainability strategy. 
A member of the Sustainable Hospitality Alliance, BWH Hotel Group has created a new global sustainability strategic initiative, called "Because We Care," which will focus on three pillars: Earth, People and Community (EPC).
BWH Group is a global hospitality network comprising three hotel companies: WorldHotels Collection, Best Western Hotels & Resorts and SureStay Hotel Group.
Larry Cuculic, president and chief executive officer, BWH Hotel Group said: "With each passing year, the need for more responsible and sustainable travel increases in importance. We, as members of the global hospitality community, cannot afford to sit on the sidelines and wait for change to happen. That is why we applaud the momentous efforts our hotels and resorts around the world are already taking to enact sustainable-driven initiatives."
Ron Pohl, president of international operations and WorldHotels said: "This is a collective effort, with every hotel brand, hotel owner and hotel employee feeling empowered to do their part. I am proud of the steps we have taken with even bolder changes at BWH Hotel Group with the evolution of our Because We Care programme, and in the meantime, I am thrilled to support our hoteliers who are already making great strides in areas of sustainability."
Here are some examples of how individual BWH properties are addressing sustainability.
Best Western Premier Hotel Victoria in Germany – Located in Freiburg, Germany, Best Western Premier Hotel Victoria has garnered numerous awards for its environmental programmes over the last 20 years. The hotel's initiatives include the implementation of 200 square metres of solar panels (some of them are pictured above) and four wind turbines, environmentally friendly cleaning agents and reduced water usages, wood pellet heating and cold-water cooling systems, and extensive waste reduction methods amongst many others. Best Western Premier Hotel Victoria is also a member of Sleep Green Hotels, Eco-Management and Audit Scheme (EMAS), Innovation Academy, Energieagentur Regio Freiburg, Green City Cluster Freiburg, which all play a role in fostering responsible hospitality practices.
Prestige Hotels & Resorts in Canada – Nine of Prestige Hotels & Resorts in British Columbia, Canada recently joined the WorldHotels Collection. The portfolio of independent hotels and resorts, is committed to the GreenStep Sustainable Tourism programme (one of 200 accreditation bodies worldwide offering sustainable certifications), with certifications across its properties. As part of the chain's initiatives, there is the Go Green Program, which encourages guests to opt-out of housekeeping services in exchange for dining credits or reward points, and enacts fundraising and donation efforts in support of a charity that provides comfortable accommodations for family members of patients staying around the local hospital.
Best Western Plus Kamloops Hotel in Canada – Located in Kamloops, British Columbia, Canada, Best Western Plus Kamploops Hotel is a Green Key and Biosphere rated property (part of the 200 accreditation bodies worldwide offering sustainable certifications) and has two EV charging stations, compostable single use dishes, and geothermal heated hot tubs and pools. The property also sources as many supplies as possible from local vendors within 100 miles of the hotel.
BWH Hotel Group properties in the UK – Across the UK, BWH Hotel Group has partnered with QIA Services, an independent rating body for the service sector (one of the 200 accreditation bodies worldwide offering sustainable certifications). The brand is working with them as its preferred partner for sustainability with its accreditation scheme, REST, which stands for Responsible, Ethical, Sustainable Tourism.
Best Western Hotel Mediterraneo in Spain – Located in Castelldefels, Spain, Best Western Hotel Mediterraneo recently achieved Biosphere Sustainable Certification. Assessed through Spain's Instituto de Turismo Responsible (ITR), this certification recognizes the property's dedication to sustainability through its range of green efforts including its fight against pollution and water consumption.
Best Western Plus Westlands in Kenya – Located in Nairobi, Kenya, Best Western Plus Westlands has implemented several community focused initiatives to help improve the area's sustainability. The hotel leads various Corporate Social Responsibility initiatives, including giving back to a local children's home, as well as plans to engage with David Sheldrick's Elephant Orphanage and participate in tree planting. Its on-property energy and waste reduction methods include a linen recycling program, motion light sensors in meeting and common areas, cooking oil recycling, and waste sorting and plastic recycling through a third party.
Caravelle Saigon in Vietnam – A member of the WorldHotels Elite Collection, Caravelle Saigon has secured its 'Earth Check' gold certificate and is the first property in Vietnam to achieve the certification. Earth Check is a GSTC accredited certification (more about this later). As part of this certification, the hotel implemented a glass and refillable water project to remove single-use plastics; fitted renovated rooms with LED bulbs and double-glazed windows to reduce air conditioning workload; and provided guests with biodegradable toothbrushes, shavers, and combs made from wheat husks. Caravelle Saigon won the Best Green Business Award from the European Chamber of Commerce in 2023.
It's worth noting that the certifications mentioned for each hotel above are not from the same sustainable certification body – and each property has chosen its own. There are more than 200 across the globe to choose from so how do we as consumers or those looking to keep to their ESG pointy when putting travellers in hotels know which accreditation is the best. Sustainable Hotel News will be writing about this in more detail, look out for the piece on the Question of Accreditation…